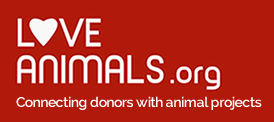 We're proud to be the founding sponsor of LoveAnimals.org, the crowdfunding site for animal projects. And now, we're even prouder to announce some exciting news!
Thanks to you, the Halo family, LoveAnimals.org is out-performing industry crowdfunding averages – which means that more animal organizations are getting more of the funds they need! Want to know the details?
Some highlights:
• LoveAnimals.org campaigns raise, on average, 50% more than the industry average – $5,772 vs. $3,300! They also offer free training and support to help groups interested in running much larger campaigns.
• Not only do their campaigns raise more money on average, LoveAnimals.org is also one of the best performing websites in terms of your likelihood of successfully reaching your campaign goal. At LoveAnimals.org, 33% of online-only campaigns raise their ENTIRE goal, compared to just 5-12% on other sites.
• Many non-profits also include an offline fundraising aspect, and LoveAnimals.org partners are even more successful when they do so. This is great news, as LoveAnimals.org doesn't charge for incorporating offline donations into crowdfunding campaigns.
This report, the 2015CF Crowdfunding Industry Report by Massolution, is well-known for the quality of its research. As industry website crowdsourcing.org explains: "Massolution's annual crowdfunding industry reports have become recognized as the gold standard for annual reporting on the size, composition and outlook for the worldwide crowdfunding industry."
Thank you to the Halo family for supporting our partner LoveAnimals.org!