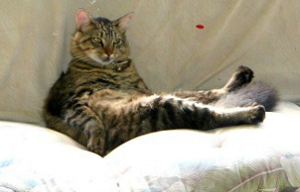 They say adopted cats choose their humans and that's certainly what happened with Ann Bosche and her adopted cat, Mr. Fancy.
According to Care2.com, it all began when Bosche was in her backyard with her dog, Gracie. The pup noticed something in the bushes, watching them. "What came out from under that bush was a large beautiful cat with a white tip on his tail. I said, 'Aren't you a fancy thing?'"
The cat looked thin and dirty so Ann fed him. Although skittish at first, the cat eventually ate. And, he came back the next night and every night after that. Eventually he would wait on the porch in the morning and again in the evening.
After a month, Bosche's husband gently reminded her that they already had a houseful of pets and it would be best to find the cat another permanent home.