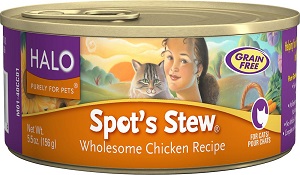 We're thrilled that Consumer Search recently named Spot's Stew Wholesome Chicken Recipe canned cat food the best canned cat food.
They gave it high marks for high-quality ingredients, lacking artificial preservatives, and having no grains.
Plus, they liked that Halo has a spotless safety record and that our cans are even BPA-free.
In analyzing reviews, they found that people appreciated the simple ingredients in Spot's Stew, along with the chelated minerals that are easy for cats to absorb.
Our best reviews are always happy pets, but we have to admit – we love getting great reviews from trusted websites, too!