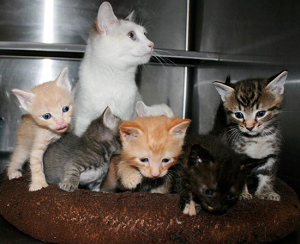 The Postsdam Humane Society recently took in a stray pregnant cat. She soon gave birth to three kittens and, in a sad but heartwarming twist of fate, ending up caring for six little ones!
"She was a mom that was surrendered to us pregnant because she showed up as a stray to someone's home and they could not give her the attention she and her kittens would need," the Potsdam Humane Society, told Love Meow.
The mama cat and her kittens were doing great. Then, sadly, a few days later, humane society workers brought in more kittens who had been found in the road after their mother had been hit by a car nearby.