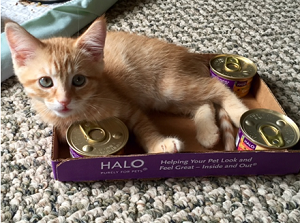 Country K-9 Rescue in central Tennessee, a volunteer-based nonprofit, knows firsthand the difference it makes to the health and recovery of rescued pets to be able to feed them high quality food.
And Halo is thrilled to have the opportunity to donate its nutritious pet food in partnership with Freekibble.com and through a Greatergood.org grant to give both the canine and feline residents of this rescue the best start to their new lives.
Country K-9's Community Outreach coordinator, Laura Scott, says, "This food donation came to us just in the nick of time as 'kitten season' was getting into full swing. Their beautiful kittens (as well as their puppies and dogs) have all been "thriving on Halo"!