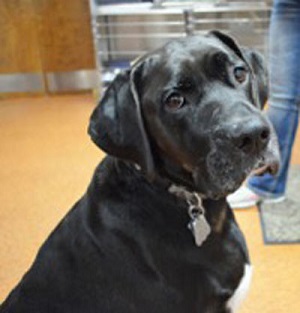 Abandoned in the snow as a puppy, this black lab was saved by a loving family and now helps save the lives of dozens of other dogs!
According to the Times Tribune in Corbin, Ky., six years ago, Rebecca Bryant found a six-week-old puppy shivering by a bale of hay. "He came to me and he jumped in my arms and I took him…I carried him home," said Rebecca.
Rebecca's mom, Deborah, is a vet tech at Corbin Animal Clinic. She and her colleagues tried to find a home for the pup but no one wanted him. So, Deborah and her family adopted him and named him Rascal.
Rascal began going to work with Deborah and he became somewhat of a mascot for the clinic. One day, however, he was able to help save the life of another dog.
Deborah jokingly told the Times Tribune, "He was the only healthy donor here, and I said, well, you need to earn your keep!"