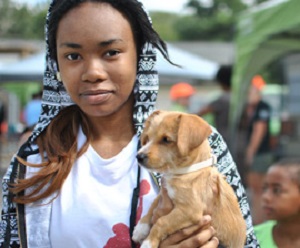 Because of you, we're able to make gifts go further for the Pets for Life program at the Humane Society of the United States! From 11:00 AM through 1:00 PM eastern time today, Halo will be donating one bowl of food for every dollar given through their Day of Giving donation drive.
We all know that money can't buy love and a small wallet is no indication of a small heart. According to Pets for Life, poverty affects one in six Americans, and 60% of all homes in the U.S. include at least one pet.
That means there are a lot of pet-loving families struggling with poverty. These people love their pets, but might need some help taking care of them. That's where Pets for Life comes in.
Pets for Life treats everyone, human and pet alike, with compassion. The program works with existing community organizations to build strong relationships with people and have an ongoing presence in the neighborhood.
Pets for Life provides spay and neuter surgeries, medications, emergency care, training, and supplies. Doing this makes it possible for pets to stay with the loving families they already have.
Halo is excited that, because of you, we're able to take care of providing food for some of these families. As you know, we think that every pet deserves nutritious, quality food.
Well-fed pets are happier pets, and happier pets make for happier families. Thank you for making it possible for us to do this. If you'd like to learn more about Pets for Life, we love the video below.