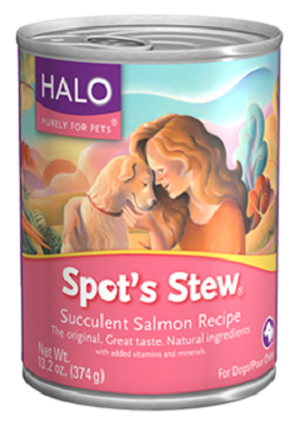 What did you find the last time you cleaned your couch? I laughed about what linebacker Sean Weatherspoon recently found. His couch contained a game check estimated at more than $138,000! I laughed even harder at columnist David Morrison's take on it:
One time I found a check one of my friends wrote me for $17.11 from three years' prior and I was like, "Put on your finest collar, Maggie! You're having Halo Spot's Stew tonight!"
You see, because Maggie is my dog. And Halo Spot's Stew is a real fancy canned food that I'd hope she would at least consider sharing with me if I were to use my windfall to buy some for her.
In addition to amused, I was also a bit relieved – my husband is apparently not the only one who has sometimes sniffed our cat's food appreciatively as though it were a stew meant for humans.
Our cat's current favorite flavor of Spot's Stew is Succulent Salmon. I suppose it could be like putting salmon pate on toast bits for a 1920s party. However, I don't think I'll push my luck asking my cat to share. He might still be holding a grudge from his last claw trimming!
Do you think your pets would share their Spot's Stew with you?
Oh, and Morrison, Halo food might have fancy quality ingredients, but we think the savings you'll rack up later from better health will mean you don't need a windfall to afford some Spot's Stew or any other Halo goodies for Maggie on a regular basis. If you sign up for our newsletter, you'll even get coupons on a regular basis!