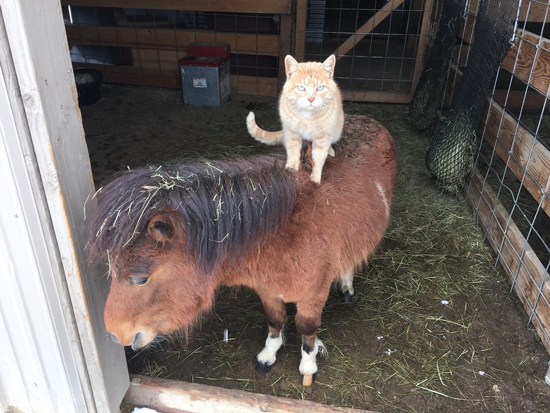 At Snowfall Ranch in Elizabeth, Colorado, you'll find the typical array of horses, pigs, goats, miniature donkeys and lambs. You'll also find a barn cat named Teton who rules the roost.
When the Joanna and Scott Shaw, owners of Snowfall Ranch, began a renovation, they immediately saw mice so they decided to get a mouser. "Right from the start, Teton had spunk," the Shaws said of the cat they adopted for the job. As much as they tried to keep him in the "cat area" he would not stay there. Instead of hanging in his cat house with food and fluffy blanket, he wanted to hang out with the barn animals. Eventually the team gave up trying to keep Teton contained and let him go where he pleased.
Read more about Teton, the Barn Cat who demands rides on farm animal's backs.