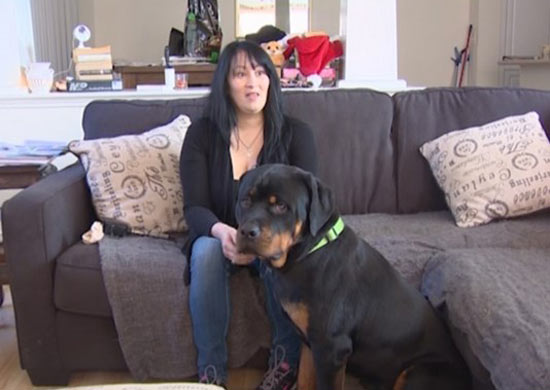 If you were jogging in the woods and a man grabbed you, hopefully you'd have someone else at your side to save you. According to KHOU 11 News, a normally gentle and friendly dog, did just that for his owner in Texas in late January.
Catalina Humphrey was out for a jog in the middle of the afternoon on a Saturday when, she told reporters, a man crept up and grabbed her. Catalina was stunned. Thankfully before she could react to the intent apparent in the man's eyes, her dog, Hercules reacted.
According to Catalina, Hercules is "sweet and loving." That Saturday, Hercules showed just how tough he could be defending one he loves. Hercules bit the man to get him to leave Catalina alone. Catalina said that she "didn't know [Hercules] would exhibit that side of him." The man was able to run away screaming and bleeding, but leaving Catalina and Hercules safe.
Catalina hurried home and alerted the authorities. Then, she made sure that Hercules got his reward – a bone and a doggie spa day. Because of Hercules, not only is Catalina safe, but authorities have leads to pursue. Officers are inquiring at hospitals for patients with dog bites, but they even have DNA evidence because of Hercules. The Montgomery County Sheriff's Office was able to collect DNA in Hercules's mouth that they can use to identify the attacker.
"To know he protected me, I am beyond grateful he did that. He is a hero, because he saved my life," Catalina said. Although we always want our pets to be friendly, it's good to know our friends have our backs when we need it.