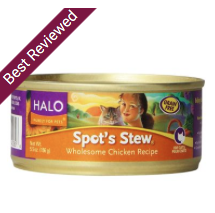 We're thrilled that Consumer Search named Halo best reviewed canned cat food.
Editor's note states, "For value and quality, Halo cat food is top rated…" They gave it high marks for being grain-free, having high-quality ingredients and lacking artificial preservatives.
Halo has always used only WHOLE meat and never any "meat meal," which hasn't just made Halo a highly digestible pet food, but a delicious one that cats and dogs love. WHOLE meat is more digestible, more bioavailable, and more delicious!
In their analysis, they like that, "Halo Spot's Stew packs high-quality meats and veggies into a stew that looks like people food. The company has a spotless safety record and use no questionable ingredients or fillers. The cans are BPA free, too."
Thank you Consumer Search for reviewing our product and for naming us one of the best cat foods for the third year in a row.