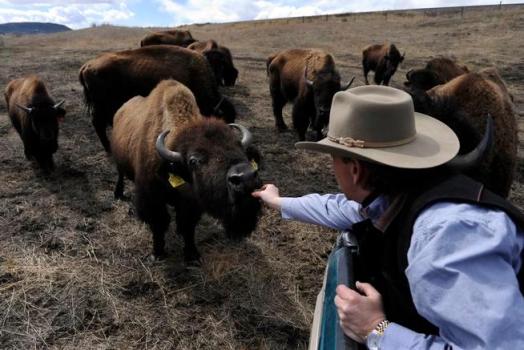 We're proud that Halo's own Director of Sourcing and Ingredient Stewardship Dave Carter is helping launch this important conservation effort!
Excerpts from the Major Bison Restoration Campaign Launch press release:
One million bison, one continent and one cohesive commitment to bison herd restoration. If the bison industry achieves its goal, the North American bison herd will swell to 1 million strong by 2027. This aggressive growth goal was announced at the 2017 International Bison Conference as the "Bison 1 Million" campaign.  More than 600 bison ranchers, producers, marketers and enthusiasts were in the capacity audience when National Bison Association executive director Dave Carter announced this new and audacious brass ring for bison herd expansion.
Representatives of The National Bison Association (NBA), Canadian Bison Association (CBA), InterTribal Buffalo Council (ITBC) and Wildlife Conservation Society (WCS) are participating in the formal announcement today as a demonstration of the collaborative commitment to bison restoration among private ranchers, public herd managers, tribal leaders, conservationists, government agencies and other stakeholders in the United States and Canada. 
"Six years ago, many of us came together in the successful campaign to establish bison as the National Mammal of the United States. Today, we are reaffirming our commitment to continue to work together to restore bison in commercial, conservation and cultural herds across North America," said Dave Carter, executive director for the National Bison Association.  "In the coming months, each of our partners will be providing outreach education on the activities that will help promote the continued restoration of bison on private, public and tribal lands," Carter added."
Read more about the major bison restoration campaign.