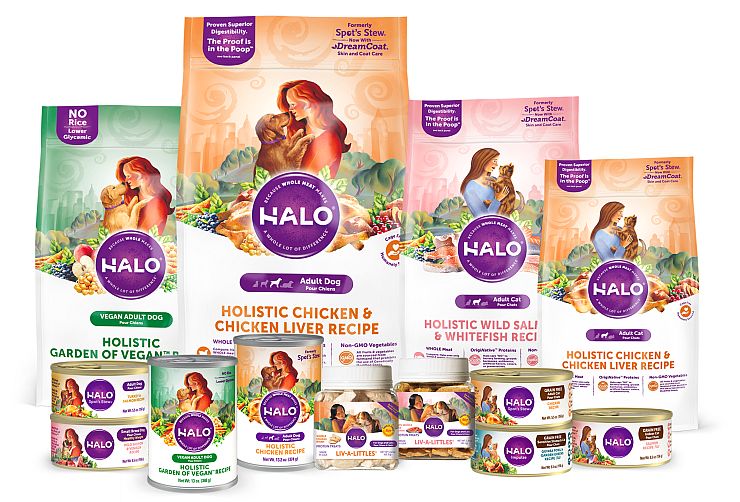 I've been waiting for weeks since I learned about the amazing new food Halo was creating for it to finally be available. Now I can crow about it from the rooftops! What's worth celebrating is that Halo, as "America's best loved holistic pet food," is now even more committed to uphold their underlying philosophy.
Nothing has been changed about Halo's commitment to make their foods always with WHOLE meat and never any of the meat meal products like chicken meal or fish meal. Halo will still have fruits and vegetables, added vitamins and minerals, no corn, wheat, or wheat gluten, and no artificial colors, flavors, or preservatives.
The difference now is that Halo is recognizing the welfare of all animals in their decisions about what to put into their pet foods. With an overall mission to change the way companion animals are fed and farm animals are raised, they want to consider our pets as well as those animals who go into the food.
With all new formulations, Halo has extended their holistic approach to pet food by being vigilant about where and how they source all their ingredients. They want to use only humanely raised farm animals. They want to use only non-GMO fruits and vegetables. They want to know where all the ingredients come from so that they are sourcing with principles. It is a lofty aspiration and one I hope we can all embrace and try to put into practice in how we feed ourselves and our human family members, too!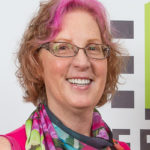 Tracie Hotchner is a nationally acclaimed pet wellness advocate, who wrote THE DOG BIBLE: Everything Your Dog Wants You to Know and THE CAT BIBLE: Everything Your Cat Expects You to Know. She is recognized as the premiere voice for pets and their people on pet talk radio. She continues to produce and host her own Gracie® Award winning NPR show DOG TALK®  (and Kitties, Too!) from Peconic Public Broadcasting in the Hamptons after 9 consecutive years and over 500 shows. She produced and hosted her own live, call-in show CAT CHAT® on the Martha Stewart channel of Sirius/XM for over 7 years until the channel was canceled, when Tracie created her own Radio Pet Lady Network where she produces and co-hosts CAT CHAT® along with 10 other pet talk radio podcasts with top veterinarians and pet experts.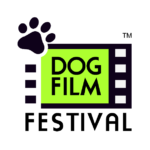 Tracie also is the Founder and Director of the annual NY Dog Film Festival, a philanthropic celebration of the love between dogs and their people. Short canine-themed documentary, animated and narrative films from around the world create a shared audience experience that inspires, educates and entertains. With a New York City premiere every October, the Festival then travels around the country, partnering in each location with an outstanding animal welfare organization that brings adoptable dogs to the theater and receives half the proceeds of the ticket sales. Halo was a Founding Sponsor in 2015 and donated 10,000 meals to the beneficiary shelters in every destination around the country in 2016.
Tracie lives in Bennington, Vermont – where the Radio Pet Lady Network studio is based – and where her 12 acres are well-used by her 2-girl pack of lovely, lively rescued Weimaraners, Maisie and Wanda.