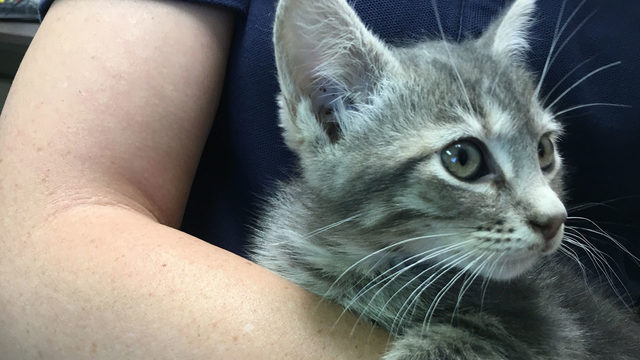 Cats can get into all sorts of places as regular readers know. One cat in Santa Barbara County got himself stuck in a wall being built as part of a new jail that is being constructed!
According to Keyt.com, Daniel Maga and his crew had just started their work day around 6 a.m. Suddenly, as Daniel told reporters, "We heard this crying coming out of the wall, this meowing." They looked closely and found that "there was a little kitten stuck…up in the rebar," said Daniel.
Daniel and his crew knew that they needed to save this cat. Their initial rescue attempt was unsuccessful, but Daniel and his coworkers decided to let the cat calm down before making another attempt. The second attempt worked! Daniel shared, "We were able to scoop him out and pull him out, and get him out of there."
Thankfully the little kitten was in good health despite his captivity within the wall. He appears to be about ten months old. The crew isn't sure what name to give the little kitten. They've discussed "El Chapo," "Smoky," and "Felix the Cat" "because Felix is lucky," as Daniel said.
He does have a future home though. The kitten will be full grown by the time the new jail opens in early 2019, but he'll be the jail's mascot. Daniel shared that "all the guys, when they're getting booked, can see a little kitty in the booking area when they're being fingerprinted."
Even if El Chapo/Smoky/Felix won't become Daniel's personal pet, Daniel is awfully fond of the kitten. He told reporters that he "was thinking about coming by and giving him a little treat here and there." We're sure that the kitten of many names would love to see his rescuer with or without those treats.