Milo's Sanctuary & Special Needs Cat Rescue, Inc. located in Burbank, CA, is a non-profit 501(c)(3) founded on the belief that all cats deserve a second chance at life, especially those that have physical disabilities, are seniors, have a terminal illness, or have been abused and need someone to care for, love, and understand them.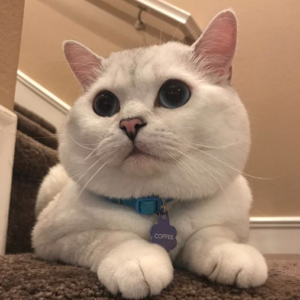 Halo is proud to partner with Freekibble.com and GreaterGood.org to make a WHOLE lot of difference for shelter pets together.
Milo's Sanctuary received the donation thanks to a Halo partnership with White Coffee Cat, a British Shorthair who is a recent cancer survivor. With over 1.5 million Instagram followers and almost 500,000 Facebook fans, Coffee is one popular cat!
Here's what Milo's Sanctuary had to say about their Halo Pets donation:
"The donation of this food has helped us in a great way. Because of the donation we have been able to use funds that were previously ear-marked for our food allowance have been put toward new rescues. We are so excited to not only be providing our cats with the amazing food they love but because of the generosity of everyone involved more special needs cats and kittens have been and will continue to be rescued. 
Rayth is a blind boy we rescued from the high desert he has always been very picky about any food. When we gave him a bowl of Halo he got so excited and didn't stop eating it until the bowl was clean. His fur is softer and his health is much improved!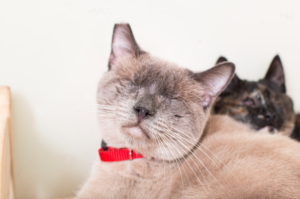 Daisy is a cat that came to us from a horrendous hoarding situation with 200 cats and 150 dogs in a 1500sf house. She has always had dietary problems with vomiting and diarrhea. We put her on the Halo food and within 48 hours saw a huge improvement in her dietary issues. She seems to be a much happier cat now!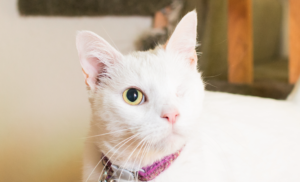 We are so grateful to everyone involved for this opportunity to not only feed our cats the wonderful HALO food but to be able to in turn use funds towards rescuing more cats and kittens with special needs." 
Thank you Milo's Sanctuary for making a WHOLE lot of difference for pets in your community.
Halo has now added even more WHOLE meat, poultry or fish and use OrigiNative™ (humanely sourced) Proteins, saying "NO" to factory farming, growth hormones, antibiotics, artificial flavors, colors, or preservatives. And all our fruits and vegetables are now Non-GMO – sourced from farmland that prohibits the use of Genetically Modified Seeds.
Halo feeds it forward, donating over 1.5 million bowls annually. As always, Halo will donate a bowl to a shelter every time YOU buy. Thank you for helping #HaloFeeditForward.