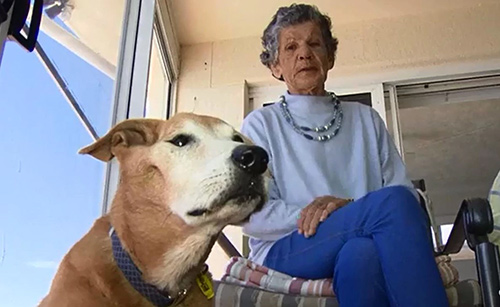 Swimming pools can be a lot of fun on a hot day, but they can also be dangerous. The Kennedy family on the Gold Coast of Australia had reason to be grateful for their smart dog when they were reminded of those dangers!
According to 7 News, The West Australian, Marilyn Kennedy suffers from Alzheimer's disease. The Mayo Clinic notes that this progressive disease "is the most common cause of dementia." It affects 1/10 of Americans age 65 and older, notes The Alzheimer's Association. However, like many couples of all ages, Marilyn and Barry enjoy having a pet as part of their family. They have a beloved dog, Bob, whom they adopted from a shelter.
On a recent day, Marilyn was outside while Barry was doing laundry indoors. Suddenly Bob interrupted Barry. Barry told reporters, "Bob the dog came in barking and staring at me, and he was whimpering and I knew there was something wrong."
Bob had been outside with Marilyn when she fell into the pool fully clothed and was unable to get herself out. Thankfully, he ran inside to find Barry and lead the concerned husband outside to Marilyn. Barry was able to help his struggling wife safely out of the pool. Despite the ordeal, Marilyn ultimately ended up being unhurt by her fall.
It was Bob's quick thinking that saved her life. Barry told reporters that, but for Bob's intervention, he "would have probably have been two or three more minutes in the laundry which would probably have been fatal." Barry continued, to praise Bob, saying, "He saved my wife's life, it's fantastic. It really bonds us as a family." We're happy that Barry and Marilyn once saved Bob's life by adopting him, and that then he was able to repay the favor by saving Marilyn's life when she needed help. What a good dog!