According to their website, Lake Charles Pit Bull Rescue (LCPBR) is a breed specific rescue organization that is dedicated to the rescue, rehabilitation, and re-homing of pitbulls and pit mixes. LCPBR is also an educational based organization. LCPBR educates through breed specific historically correct facts, dog training, specifically bully breed training classes and individual training sessions, and youth based educational material and meetings against dog fighting and animal cruelty.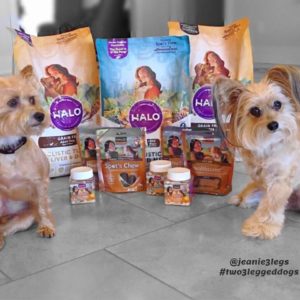 Halo is proud to partner with Freekibble.com and GreaterGood.org to make a WHOLE lot of difference for shelter pets together.
Lake Charles Pit Bull Rescue received the donation thanks to a Halo partnership with Jeanie the 3-Legged Dog, an advocate for the rescue and adoption of pets with special needs and star of the viral video with her sister Pippa.
Renee Smith, President of LCPBR, shared a story of a particular dog named Halo who went from being shot in the head when he was a pup to being a loving LCPBR ambassador:
"Four years ago our rescue received a phone call about a puppy at our local shelter. We were told he was injured and needed our help. We rushed to the shelter to get him and saw that he had severe trauma to his head. Our vet, who is one of the most amazing people I know, said he would stay late to see our puppy. After doing x-rays we found out that he had been shot in the head 3 times with a pellet gun. He also had a broken ocular bone from blunt force trauma and a fractured front elbow all at just 3 months old. We posted him on our Facebook page and within days had a solid lead to who had hurt him. With the help of our local police department, and the DA we were able to find and prosecute who did this to him. It was the biggest case in our area for animal cruelty. Tyler Sanders received 10 years for what he did. 
That is just the beginning of our puppy's story. The kennel workers at the shelter had named him Halo and we decided we should keep that name. It fit him. 
Halo's recovery was not an easy one. He was terrified of everything. But, he bonded to my little girl. The first time he moved from the back of his kennel was when she walked up to him and said, "Hey, Handsome." After that they have been inseparable.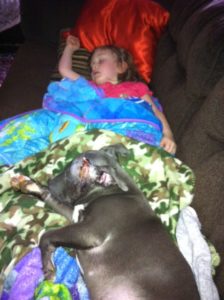 Normally, as a rescue, we would adopt out such a dog but in this case, because of his bond with my little girl, Phoenix, and because he had become such a well known baby in our home town we decided to keep him in the rescue, in my home and now he is an ambassador for us and the "breed."
Halo has been featured in calendars with the police officers that saved him, he was the first pit bull to visit with an elementary school and teach about animal welfare, and he has been on our local news more than once.
Right now, as I type this, he is sleeping next to Phoenix. This amazing little blue injured baby has managed to change minds in our town and win hearts all over the world. He is, by far, one of the most amazing dog I have ever had the pleasure of rescuing. 
As a rescue, we always strive to provide the best care and food for our dogs. In fact, when we can we feed Halo. 
I would truly love to continue to share Halo's story and his continued growth and being able to save more like him is what I live for in rescue. He has changed so many lives with his story. And he continually reminds me why I am in rescue. "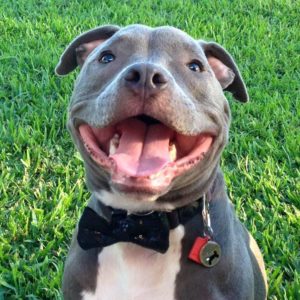 Thank you Lake Charles Pit Bull Rescue for making a WHOLE lot of difference for pets in your community.
Halo has now added even more WHOLE meat, poultry or fish and use OrigiNative™ (humanely sourced) Proteins, saying "NO" to factory farming, growth hormones, antibiotics, artificial flavors, colors, or preservatives. And all our fruits and vegetables are now Non-GMO – sourced from farmland that prohibits the use of Genetically Modified Seeds.
Halo feeds it forward, donating over 1.5 million bowls annually. As always, Halo will donate a bowl to a shelter every time YOU buy. Thank you for helping #HaloFeeditForward