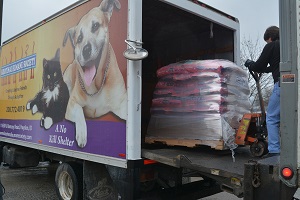 You might remember reading about how Halo and friends helped fly pets to find new homes. Well, we have a photo update from Kootenai Humane Society in Hayden, ID, the shelter that took in the pets.
As you can see from the photo below, they're settling in, looking gorgeous, and eating well!
We're proud to be a part of helping pets move from overcrowded conditions in Los Angeles to Idaho where they have the chance for a better life with a forever home.
Working with our friends at Freekibble.com, LoveAnimals.org, ShelterMe, and Wings of Rescue is always a blast – and it's always good to know that we've helped make dreams come true for pets in need.