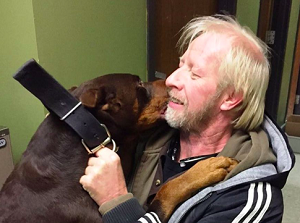 The holidays got brighter for a man and his dog were reunited after the pup went missing three years ago.
According to the Huffington Post, Allen Williams of Independence, Missouri was brokenhearted when his dog Titan escaped through the fence in his yard in 2011.
Frantically, Williams looked everywhere. He posted flyers, and checked in with area shelters and rescues, to no avail.
He gave up hope ever seeing Titan again. So he was shocked to get a call from the Kansas City Pet Project, saying they had Titan.
Now named Cocoa by his new family, the dog still maintained his old habit of escaping the yard, causing the family to fear for his safety and seek a new home for the dog.