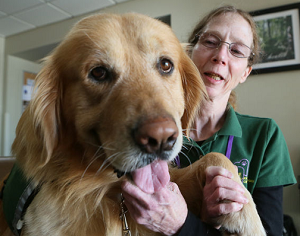 A fall into a snowbank on a cold winter's night could have been disaster for a Chesterson, Indiana senior citizen if it hadn't been for the heroic efforts of a Golden Retriever named Andy.
According to the Times of Northwest Indiana, Vicki VanDenburgh's two Golden Retrievers Andy, 5, and Ike, 9, both certified therapy dogs, were outside in the back yard.
Suddenly Andy noticed something across the street, jumped the backyard fence and ran to the neighbor's yard, barking madly.
VanDenburgh heard the barking and was surprised to see her dog across the street, obviously anxious about something. When she went to investigate, she found her neighbor, who had fallen while getting out of her car, stuck in a snowbank. Due to a bad knee, the neighbor was unable to get up.