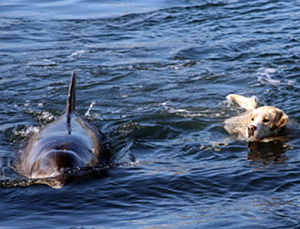 Hotel workers on Tory Island, Ireland couldn't figure out why the resident dog, Ben, was so fascinated with the harbor.
Until one day they saw him swim out to meet a pal – a friendly bottle-nosed dolphin that frequented the waters near the hotel.
Duggie, as the dolphin was known, was a frequent visitor to the harbor. Once Ben took the plunge and began swimming alongside Duggie, the two became fast friends and attracted a lot of attention for their antics together.
According to the Dublin Independent, Ben's owner, local hotelier, Pat Doohan, said Ben and Duggie would spend as much as three hours at a time, several times a day playing together in the water. Sometimes other local dogs would jump in to join the fun.