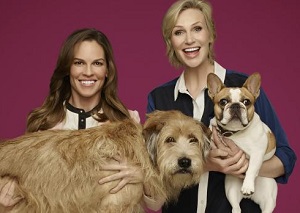 After your family finishes Thanksgiving dinner, go turn on Fox's Cause for Paws on Fox at 8pm ET. This two hour event will not only feature a performance from the Olate Dogs, but showcase and celebrate all rescue dogs. The show will feature viral videos of rescue pups and stories of inspiring and comical dogs in their new lives. It will honor those people who dedicate themselves to saving animals, and even have musical tributes to superhero pups.
Hilary Swank and Jane Lynch will host but other celebrities will include Scarlett Johansson, P!nk, Josh Duhamel, Miranda Lambert, Kristen Bell, Fergie, Paula Abdul, Betty White, LeAnn Rimes, Kesha and Carrie Ann Inaba. Awards will be provided for Cutest Puppy, Best Celebrity/Dog Lookalike, Guiltiest Dog, Best Licker, Smartest Dog, and Best Viral Dog Video.
In addition to celebrating great dogs who have already found homes, this event will help adoptable animals still waiting for such homes. The show will provide information about adoptable animals in viewers' own local areas. In addition, viewers will have the opportunity to donate to raise money for organizations throughout the U.S. By celebrating standout rescue dogs and featuring adoptable animals near viewers, Fox's Cause for Paws will encourage viewers to adopt one of the more than eight million rescue animals waiting for a home in the U.S.
We are thrilled that our old friend, Jane Lynch, is involved with this fantastic event featuring our other friends, the Olate Dogs. During Fox's Cause for Paws, the Olate Dogs will give a special performance showcasing the potential of rescue dogs. The Olate Dogs do so much to prove how amazing rescue dogs can be.
This event is a perfect fit for their message and talent. We're proud to sponsor the Olate Dogs Rescue Tour 2014-15 to continue celebrating rescue dogs. It's an honor to know that these high-energy stars only eat Halo Vigor. Want to learn more about the event, check out the original release on the Olate Dogs site!
Need some canine talent today and can't wait until Thanksgiving? Check out the latest #RescueFilm starring some of the Olate dogs.