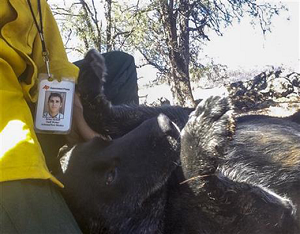 Five days after he'd been evacuated from his home due to the California wildfires, Lawrence Ross of Lower Lake, Calif. was distraught.
He wasn't allowed back to his property and he had no idea what had become of his dog, Thumper, or his goats, horses and alpacas. But thanks to a kindhearted reporter, this nightmare had a happy ending.
According to a story written by the reporter himself, Brian Skoloff, Ross had arrived at a local high school, where authorities were escorting a certain number of residents to check on their properties, homes and animals.
But Ross missed the window and worriedly said to a stranger, "I think my house is OK, but I don't know, and my dog is there, and my goats and horses and alpacas."
The stranger turned out to be Skoloff, a reporter with the Associated Press who was there covering the fires. Skoloff was headed back into the evacuation zone and offered to help. "Show me where your house is. I'll swing by while I'm out there," he told Ross.
Click here to read the complete story.