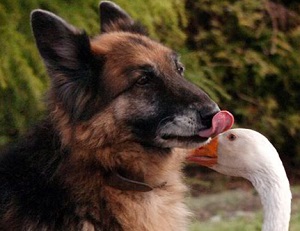 It seemed that Rex, a cranky, vicious dog in a UK animal sanctuary would never overcome his anger. That is, until he met his match – an equally cranky goose – who changed his attitude.
According to the Daily Mail, Rex, a German Shepherd, was virtually unadoptable. His vicious behavior scared all of his caretakers at the Puriton Horse and Animal Rescue Centre in Bridgewater, Somerset, England.
It was so bad that workers were afraid to go near him and, in order to feed the dog, one shelter worker had to distract Rex while the other threw food into another part of his run.
But one day Rex met Geraldine the goose, and he became a changed dog.
Geraldine arrived at the animal sanctuary, a bit of a grouchy goose herself. Staff members worried that if the two animals ever met face-to-face, there would be trouble.

Click here to read the complete story.