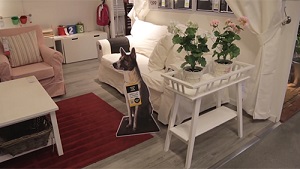 Recently, shoppers at an Arizona Ikea store were able to "shop" for adoptable pets, too!
The Ikea store in Tempe, Arizona recently started displaying life-sized cut outs of adoptable pets in its showroom – among the furniture, rugs and accessories.
"We thought it was a perfect way to show people what their home would look like with a pet in it." Becky Blaine, Ikea Tempe's marketing director, told Business Insider.
Click here to read the complete story.