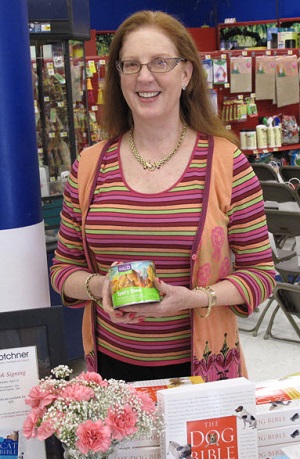 What do you do if you adopt a dog like my sweet young Blue Weimaraner, Maisie, and she develops horrible diarrhea when switching her to a better food?
When I picked her up from Mid-Atlantic Weimaraner Rescue in Virginia Beach, they were feeding her and all the rescues a lamb kibble from a big warehouse store. It's a perfectly good choice when you have to consider price when feeding large breed dogs in a rescue, but my ultimate goal was for Maisie to eat Halo.
Halo is the kibble I always feed my dogs as part of their daily meals—I feel it is the best chance at a long healthy life using a dry food with optimal ingredients that avoids any rendered meals. I was shocked when she got terrible diarrhea when I switched her over – even after making the transition over a couple of days.
I knew just whom to ask for advice, since Dr. Donna Spector is not only my co-host on our own Radio Pet Lady Network show THE EXPERT VET, but she's also Halo's Official Vet (which is where I met her and loved her advice to customers on the Halo blog).
First Dr. Donna made sure I had gotten fecal samples to my own vet, which did show Maisie had some parasites and she was given a dewormer. Unfortunately the "puddles of poo" persisted and became a serious problem, even when I switched her to nothing but white rice and boiled chicken breast.
That was when Dr. Donna surmised that Maisie might have a condition that afflicts many young, large breed dogs: Fiber Responsive Diarrhea (called FRD). FRD often becomes apparent in young dogs when they change from a lower quality food – because those foods often have more fiber in them when compared to foods like Halo.
The good news is that dogs affected by this condition can be fed a high quality dog food successfully—you just need to add more fiber to the food—which is easy to do! If you have a dog that gets an upset tummy when you try to give a super premium food like Halo, please listen to our August THE EXPERT VET show in which Dr. Donna explains this phenomenon in more detail.
(The Expert Vet (8-04-2014) #5029)
Dr. Spector explains how adding Fiber One cereal and psyllium husk powder to all meals in a dog affected by Fiber Responsive Diarrhea is a way to ease the transition to a new higher quality lower fiber food. Most of these dogs will require some additional fiber even after the transition is complete without diarrhea. Even though Maisie has no issues with weight, we decided to choose Halo Healthy Weight Management kibble because it actually has a lot of really healthy fiber in it. Now I can feed Maisie her Halo along with the other healthy ingredients I include – just so long as we keep adding the Fiber One cereal and psyllium husk – and Maisie is the picture of health (and poop clean up is finally manageable, too!)
Tracie Hotchner is the author of THE DOG BIBLE: Everything Your Dog Wants You to Know and THE CAT BIBLE: Everything Your Cat Expects You to Know. She is also a renowned pet radio host and producer, having spent 7 years on the Martha Stewart Channel of Sirius/XM with CAT CHAT® and even longer with her award-winning NPR radio show DOG TALK® (and Kitties, Too!) that continues to broadcast in the Hamptons and the Berkshires. Her most recent accomplishment is the pet talk radio network she has created on the Internet called The Radio Pet Lady Network.