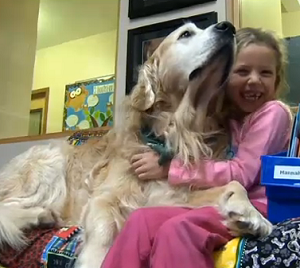 First graders at Cambridge Elementary School in Jefferson, Vt. have a special incentive to practice their reading skills – it's furry and snuggly and often falls asleep during the story.
MacGriff, an 8-year-old Golden Retriever, helps encourage the kids to read, offering calming, non-judgmental company.
According to local news station WCAX-TV, MacGriff and his owner Barbara "Scotty" Grigat, have been coming to the school every Wednesday the past four years to offer their assistance to kids of all reading levels. They spend about six hours with the kids.