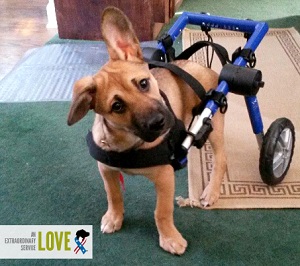 We are thrilled to announce that Crixus, the Detroit pup we blogged about earlier this month, has received his new wheelchair and seems to love it! Pets for Patriots' first LoveAnimals.org campaign is a resounding success — raising more than 100% of their goal to help Crixus and his United States Army veteran adoptive mom.
Because of his wheelchair, Crixus now has an easier time playing with his new dog sister Teeny and can even run to the car for car rides with her, too. According to his adoptive mom, "The two of them sit side-by-side, all happy to be on a ride." Along with car rides and play time, Crixus is also now able to start leash walking with his family.
We are so grateful to LoveAnimals.org, Pets for Patriots, and all the generous donors who made this possible. In addition to exploring Michigan on the ground with his leash, Crixus somehow (no one knows how) was able to maneuver himself up onto the family couch the other day and appeared "very proud of himself." Talk about tenacity and ingenuity!
Crixus also is settling in to the family and showing his personality. He gives face kisses and cuddles with his family. One morning his adopter woke up with his head on her shoulder, and when she turned to look at him, Crixus gave her a kiss! We absolutely agree with his adopter who wrote, "He just melts my heart."