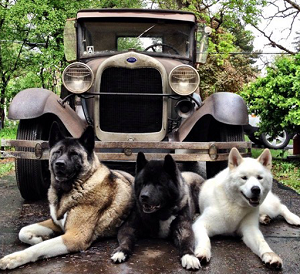 Kiaya, a blind, 10-year-old Akita from Waterford Michigan, uses more than her doggie instincts to get around. She also has two seeing-eye dogs to help her out!
According to BluePearl Veterinary Partners, Kiaya's adopted canine "brothers," 8-year-old Cass and 2-year-old Keller, help her get around by standing on each side of her, helping to guide her.
The dogs' owner, Jessica VanHusen, said after battling Glaucoma for two years, Kiaya lost her left eye first, in July 2013. Cass was immediately more protective of her, spending more time with her and always on her blind side.
Once Kiaya's second eye was removed 18 months later, Cass's protective behavior increased noticeably.