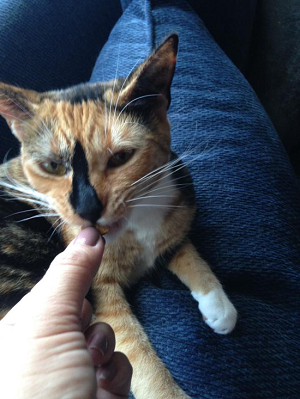 Veteran Karolyn Smith knew that adopting two kittens would might help her cope with her Post Traumatic Stress Disorder (PTSD) but she never imagined one of the kittens might help other veterans as well!
Smith, an army sergeant who served in Iraq, rescued the two kittens, Leonias and Sophia, from a local shelter. Sophia was found with her umbilical cord wrapped around her hind leg, requiring the leg to be amputated when she first arrived at the shelter.
But the cat's disability did not dissuade Smith from adopting the pair. "I was thinking, no problem because I have friends who are amputees," Smith told WIAT-TV.
Soon, however, Smith began thinking that her little "bionic cat" Sophia might be a perfect therapy cat for fellow veterans suffering from PTSD.
Smith knows from experience how difficult it is to live with PTSD. When she was in Iraq, a roadside bomb wounded her. Her hope is to help other veterans facing the same challenges she has.