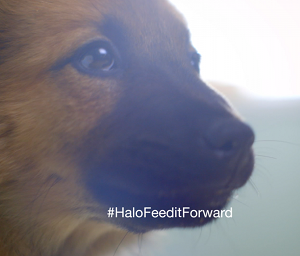 Halo, Purely for Pets is thrilled to have won two Bronze awards and one Merit prize at this year's Hatch Awards for its popular #HaloFeeditForward campaign! The campaign has helped "ignite a movement" encouraging people and their pets to work together to ensure every pet gets premium nutrition, including shelter pets.
When you buy Halo's products, they feed it forward—donating 1.5 million bowls each year. Shelter pets waiting for their forever home benefit from high quality food to boost their health—and a healthy, happy pet is a more adoptable pet.
The Hatch Awards is New England's annual awards show featuring the region's best design and marketing teams. Some of the largest companies are among this year's winners, and Halo is proud that its campaign has been recognized among so many top-notch entries. Halo is honored to stand alongside the other winning companies and organizations as diverse as Blue Cross Blue Shield of Massachusetts, Center for Science in the Public Interest, UNICEF, JetBlue, Samsung and Greenpeace.
Halo would like to give a special shout-out to the creative team at Sapient Nitro Agency for helping to capture our campaign's story in award-winning form. And congrats to all of the other 2015 Hatch Award Winners!