Mom2danes wrote this review on Chewy.com about Halo Healthsome Vegetarian Biscuits with Peanut 'n Pumpkin Grain-Free Dog Treats.

By: Mom2danes
fromNorth Myrtle Beach, SC
Halo is to dog food what Ellen is to laughter!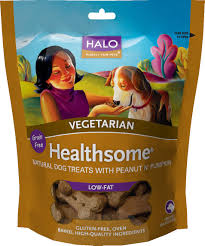 "Toby" Our Beagle/Walker Hound mix rescue has proven harder to train than our two Great Danes were because he is "food motivated" and our Danes just want to please us.
I tried several favors of Halo doggie treats. Toby LOVES them all and we love that they are grain free!
Now, he stands at the pantry door and whimpers until I open it and reach in for his treat. If I try to pass off anything other than his Halo treats, he turns his head and won't look at me until I get the right bag out.
I have even tried putting another "name brand" treat in the Halo bag but he knows. HE KNOWS the difference. I never feel guilty giving him treats when they are HALO!
Thank you Mom2danes for the review of Halo Healthsome Vegetarian Biscuits; we are happy Toby is enjoying them.
Click here to see the original review on Chewy.com.