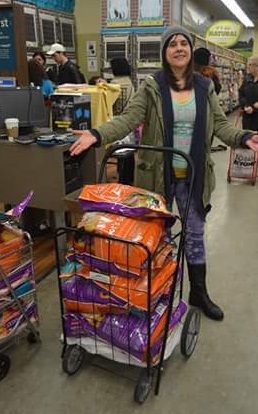 KittyKind.org recently shared this on Facebook:
"Lenny Abrahamson, the director of the incredible movie "Room", was nominated for Best Director this year. As part of Lenny's Oscar nomination gift bag, Freekibble.com and GreaterGood.org offered him the option of donating 10,000 Halo meals to the shelter of his choice.
He chose KittyKind! And we chose to give those meals to as many rescuers who feed community cats as we could possibly help.
The results: On Saturday, April 9, 2016, KittyKind distributed 136 bags of high-quality, salmon-flavored Halo Spot's Stew (1,168 pounds of food!!), to over 20 colony caretakers.
This distribution is helping to feed OVER 1,000 COMMUNITY CATS! On Saturday, we worked together to make a difference for some of NYC's biggest heroes.
Infinite thanks to @Freekibblecom, @GreaterGoodorg, @LennyAbrahamson, and @Halopets for making this possible."
When Halo asked if the cats were enjoying the food and if the donation was helpful? This was the response….
"Are you kidding? This probably the best food most of these cats have ever had. Not one single complaint from the rescuers, only tears of joy about the high quality of the food."