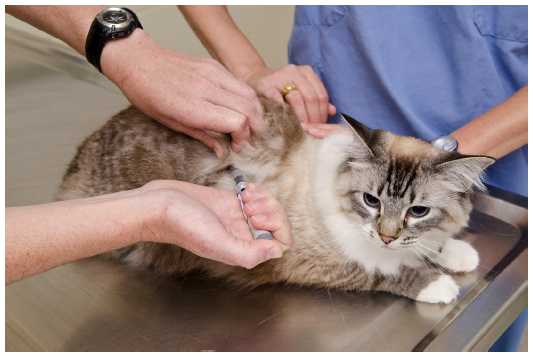 Question: Hi! Our cat Scooter has been taking novolin for about 6 months. His numbers vary quite a bit even though we feed him at same time and give him his insulin at the same time. They range from 80 to 380 depending on the time of day. We are thinking of changing him to vetsulin but now that I see this I am wondering if it's a good idea. This April 2016 though and I don't see any recent posts. Would love an answer.
Thank you,
Morris Murphy
Answer:
Dear Morris,
Thanks for writing in. Generally speaking, novolin and vetsulin are not recommended as the first line insulin choices in cats with diabetes. These insulins often have a short duration of action of blood sugar control in cats and control of clinical signs is often poor. The recommended insulins for cats are the longer acting glargine or protamine zinc insulin (PZI). I have included a link to the AAHA Diabetes Management Guidelines for Dogs and Cats for your review. I would recommend you speak to your veterinarian specifically about your cat and his needs. Good luck.
Dr. Donna Spector
Answers provided to pet owners by Dr. Donna Spector should be considered information and not specific advice. Answers are to be used for general information purposes only and not as a substitute for in-person evaluation or specific professional advice from your veterinarian. Communications on this site are very limited and should never be used in possible cases of emergency. Halo, Purely for Pets will not be liable for any loss or damage caused by your reliance on any information or content contained in a blog or article post.