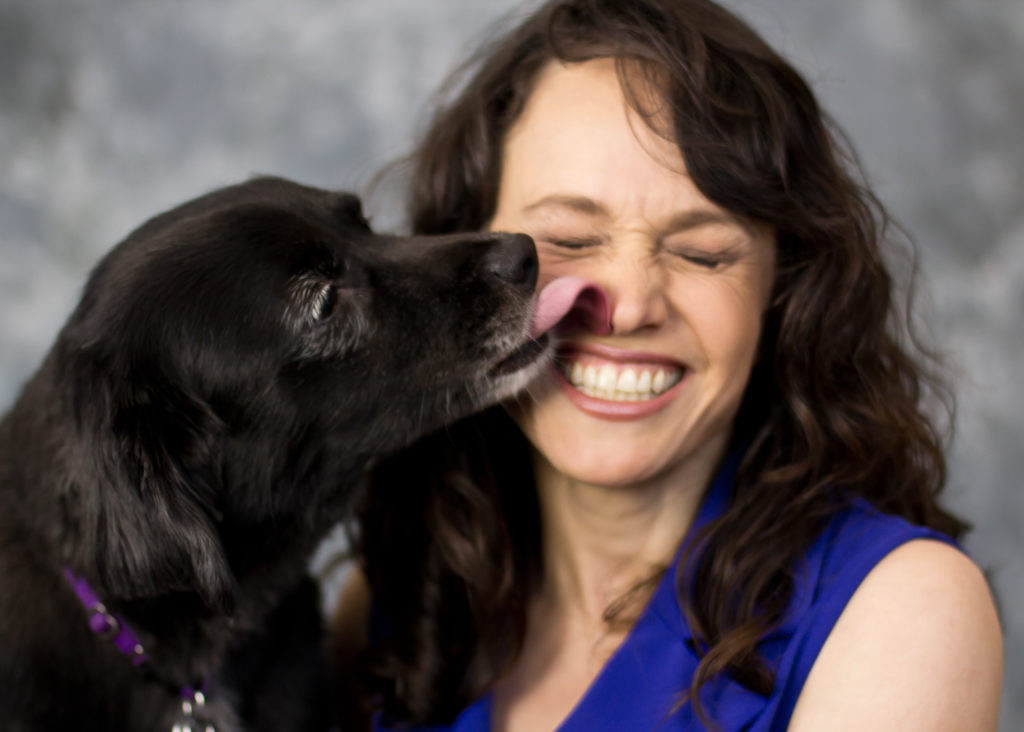 Hello Halo Pets and peoples! My name is Belle and I am a streets-to-sheets rescue dog in Los Angeles. I consider myself very lucky, because not only does my person love me, but she also speaks dog – a rare talent in peoples – and we communicate so well that she agreed to translate my words into a book.
My first book, Dog Only Knows: The Word of Dog just hit shelves last month and I am having a blast getting used to being not only incredibly cute, but also a famous author.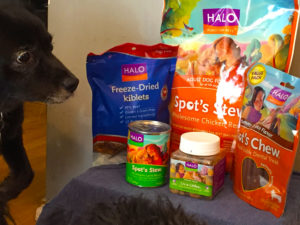 I am also lucky because on our travels, my person and I met some lovely people from Halo Pets, and this led to me being able to try a bunch of their foods. Score one for Belle! I enjoyed everything I tried, and I'd like to share my experience with you!
Let's begin at the beginning. The first thing I got to try was Halo's new Kiblets food toppers. These are freeze-dried protein boosters made of beef, or chicken, or turkey and salmon.
My little sister Delta and I are used to having some wet food mixed in with our dry food, but one day our person surprised us by sprinkling the beef Kiblets over our food instead. She crumbled up the Kiblets and the smell was…well, let's just say I am drooling thinking about it. I had to stand up to get a closer sniff as she was preparing our supper.
One thing you should know about me and Delta is that we are slow eaters. We take our time, and savor every bite. We are not snarfers. But that first night with the Kiblets? I have to admit, we snarfed it up and licked the bowls clean.
Now let's talk kibble. Here's what I noticed about Halo Spot's Stew in comparison to other kibbles I have eaten:
It smells good! It has a non-kibble-y "real food" smell to it that is very appealing; and as I imagine you know, smell is very important to a dog.
You can see little freeze-dried veggies in there that look like veggies. This adds to the aforementioned "real-food-ness"
My person read the ingredients to me and they were things I could understand, like chicken, eggs, peas, oats and flax seed. If I know the words, then it must be real food.
We had similar success mixing in some wet Spot's Stew with the dry. All very yummy. Bowls licked clean. Ingredients I understood.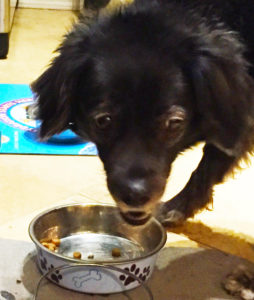 I had heard that "if you don't find it in your kitchen, you won't find it in Halo," and it seems that is true. Well, not so much our kitchen, because my person doesn't cook, so we pretty much just have seltzer and dog food. But in a normal kitchen, it would probably apply.
Now, I am used to getting a certain green dental chew every night for dessert. My person says she has to keep my breath fresh because I am an expert face licker. I just love the chews and get very cranky if I don't get one. I am a creature of habit, so I was skeptical about switching to the pumpkin flavor Spot's Chew Dental Treats. But I have to say, they were quite tasty and I was perfectly happy with them as an after-dinner treat. My person was pleased too; she told me that my breath was just as fresh as ever while I licked her face for an hour one night.
Finally, there were the Liv-a-Littles treats – little bits of 100% chicken or beef or liver, freeze-dried into bites of perfection. Okay, I'm not a poet, but you get my point. They are yummy! And they pack a nice, high-protein boost. Very concentrated protein, so a little goes a long way.
All in all, I give a big "four paws up" to each and every product I tried. And you should know, I don't do that lightly. I have been known to turn my nose up at substandard biscuits.
Thank you to Halo for allowing me to try these foods and for welcoming me into the Halo Pets community! I love to make new friends. To anyone reading this, I send you virtual face licks – and believe me, I never forget a face I have licked.