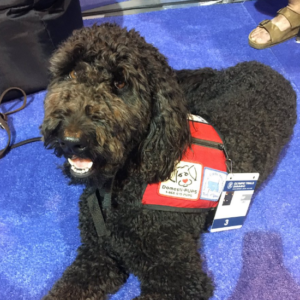 At the recent U.S. Olympic Swimming Trials in Omaha, Neb., the athletes employed all types of tactics to keep calm and perform at their best, including snugging with friendly dogs!
According to NY Daily News, this year, USA Swimming brought in 30 therapy dogs to help swimmers de-stress before their races. The group partnered with Domesti-PUPS, which is a Lincoln, Nebraska-based nonprofit organization that provides therapy dogs for a variety of organizations and events.
At the trials, the stress was high for the nearly 1,700 swimmers from across the nation. The high-stakes event determined the American team for the Rio Olympic games but also gave other top swimmers a chance to experience the highly competitive atmosphere of the trials.
Learn more about therapy dogs helping at the U.S. swimming trials.