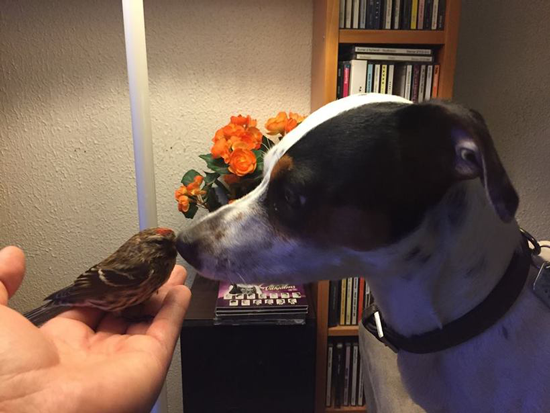 Many dogs will bark when they see a bird fly by. One dog in Iceland didn't bark, but made sure his owner noticed a small bird who had gotten knocked out.
According to the Iceland Monitor, Gunnar Kr. Sigurjónsson was sitting at his computer with his balcony door open when his dog, Tigull, began to whimper. Gunnar told the Iceland Monitor that Tigull "wouldn't stop until I followed him onto the balcony." Once outside, Gunnar saw a small redpoll stunned and still on the floor. Fearing the worst, Gunnar picked up a straw basket and placed it over the bird.
Suddenly the bird "started fluttering about and sat down." Gunnar brought the bird inside to warm up and gave him some water and seeds. Soon the bird began to tweet so Gunnar brought the bird back outside and placed him on the balcony railing.
After an hour Gunnar noticed that the bird was still sitting on the balcony. Gunnar said, "It was pretty cold outside so I decided to bring [the bird] back inside for the night." The bird spent the night with Gunnar and Tigull, resting inside in the straw basket.
The next morning Gunnar saw that the bird was much more lively. Around noon Gunnar released the bird back outside and he flew away. Gunnar was happy Tigull had noticed the stunned bird and that he had let the bird spend the night indoors. We bet the bird was grateful, too.