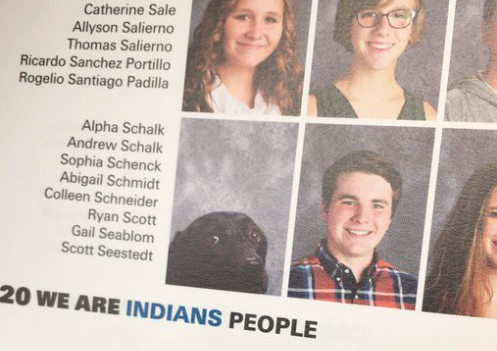 High School Junior Andrew Schalk, better known as AJ, attends Stafford High School in Fredericksburg, VA with a special friend – his service dog, Alpha. Alpha has worked with AJ since January 2, 2014, just a few years after AJ learned that he had type 1 diabetes. Alpha is a trained black Labrador and his entire community helped bring him into AJ's life.
Friends, classmates, and even his parents' coworkers helped raise $25,000 so AJ could afford Alpha's extensive training. That training can save AJ's life. AJ shared with ABC News, that Alpha "can predict 20 to 40 minutes before my blood sugar goes low or high, and that saves me from huge blood sugar spikes and drops, and also benefits my health overall."
It wasn't until AJ's sophomore year that Alpha began to go to school with him. Because of all the fundraisers, students knew about Alpha and were happy to finally see the dog. They "were so excited to see him in the hallways," AJ said. In fact, the students were so happy about Alpha that not only did Alpha get an ID card, but the students wanted him to be a part of the school yearbook.
They "loved the idea of having him in there because he's been such a big part of the Stafford community. It was so easy to get him in," according to AJ. The school's principal, Joseph Lewis, noted that having Alpha in the yearbook "was just fun to do…Alpha is just a part of everyday school life here at Stafford High School, as much as any student is."
Student Diana Bloom tweeted a photo of the yearbook page on May 18 noted that she was "crying." She told BuzzFeed News, "I thought it was cute, and I knew that some of my underclassmen friends hadn't seen it yet because they didn't have their yearbooks, so I took a picture and tweeted it." It wasn't long before the image had gone viral with almost 4,000 retweets and more than 10,000 likes.
Alpha's photo shows the adorable dog's face looking up, barely in the yearbook photo box, but AJ thinks it's perfect. "It's quite funny. I love it," he shared. AJ wanted people to know that Alpha is more than a "great companion." He shared with BuzzFeed News that Alpha "has saved my life multiple times already, by waking me up in the middle of the night to extremely low blood sugars, which are very dangerous." He later shared, "You wouldn't think that having a disability is a blessing…but Alpha has turned a disability into a much more positive experience for me."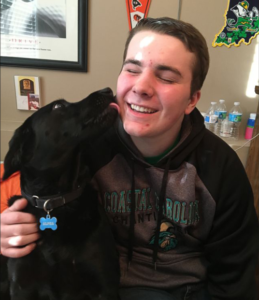 Plus, Alpha has enabled AJ to help other students. AJ shared that Alpha has "added a lot of happiness to my school's environment. It brightens people's days seeing him in the halls or in my class, and I love being able to have that effect on people."
We can't think of any better tribute than that. We're so glad that Diana's tweet shared Alpha's goodness with the wider world, that AJ has such a wonderful companion, and especially that Alpha is such a good service dog for AJ who brings joy to Stafford High School and beyond.