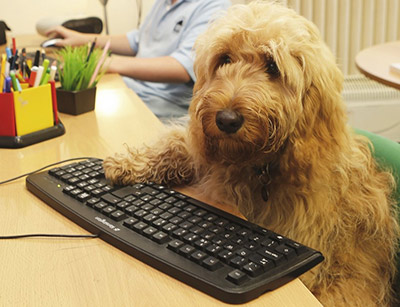 High school can be full of stress for students. Sometimes that stress leads to serious mental health problems if it's left unaddressed. Thankfully more and more schools are finding ways to help students with their mental health, the same way school nurses help with physical health. One school in England is not only part of a mental health pilot program, but has a resident dog who helps anxious and stressed students.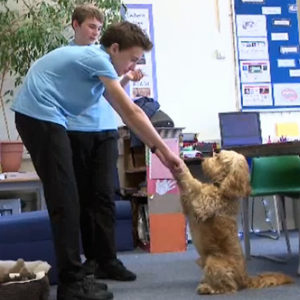 According to ITV, Ralph is the resident dog in Patcham High School's Calm Room. Students can visit the Calm Room whenever they want. One student told an ITV reporter that he comes "sometimes when he's upset." Another student said he comes in to talk whenever he's upset and has problems.
The school in Sussex, England is one of a dozen schools in England where staff have received a new training. The training taught staff not only how to help students with mental health problems, but to spot students who might need help before problems develop.
According to The Argus, Ralph actually belongs to Candice Bocking, a staff member at Patcham High School. Ralph doesn't hang out at Candice's home though. His days are spent helping students at the school. Ralph has been coming to the school since 2014, but now he is officially the resident dog in Patcham High School's Calm Room.
There are a growing number of studies examining how pets in schools might help students. Some studies have been completed, while other studies are just getting started. One student at Patcham High School doesn't need to wait for the results of those studies to know an effect of pets in schools. He told reporters that when he is upset and goes to the calm room, "Ralph gives me a huge helping hand."