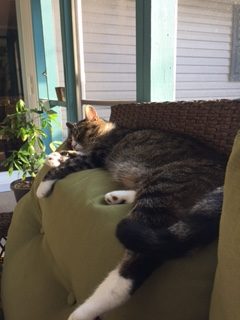 We received an email last month from Amanda Kirby, who has a senior cat named Jake. Here's what she wrote:
"I just wanted to take the time to say thank you for a wonderful product. My 11-year-old cat has been suffering from irritable bowel disease for four years and has lost 4lbs from constantly vomiting. We have tried at least 20 different cat food but nothing would help him with his stomach. He would vomiting almost everyday, leaving us feel helpless. It wasn't until I did some research that I found out about Halo. Since we have started him on Halo, he has gained 2lbs!! He has so much energy now and hasn't thrown up since… well except hair balls. I can't thank your company enough. I finally have a happy, healthy cat again!"
Amanda, thank you so much for sharing your story and we hope Jake continues to have a happy and healthy life!