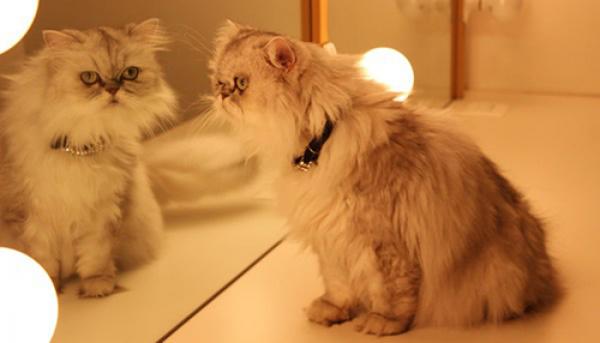 When people think of animal performers, they often imagine pedigreed pets trained to perfection. However, one little cat in Washington, D.C. defied all those stereotypes and became a star actress on stage – even gaining her own fans and following!
About six or seven years ago, a shelter called Susan Galbraith a few days after she had helped a friend adopt a cat. As Susan relayed the story to us, the shelter told Susan, "We know you have a big heart — you helped your friend. We need you to help this cat."
Susan initially refused because she wasn't looking for another cat at that time. However, then the shelter replied, "Oh no, this cat, no one will take this cat. This cat has no fur, she was found in a drainpipe so she is nearly dead and we don't think she is going to make it, but we would like you to just… give her a home."
Susan, who has been rescuing animals since she was a kid, decided to see the cat. She revealed, "I went there and sure enough, there was this cat, and it was tiny, huge eyes. It looked like an owlet because it had no fur. I brought it home, sort of tucked in a little blanket. I showed it to my son and he said, 'Mom, this is too much, that is the ugliest cat I have ever seen.'"
Well, Susan, told her son, "No, no, no…we are going to call her 'Dante's Beatrice,' and [with] that beautiful name, she's going to be a muse, and she will grow up to be a beautiful cat. And sure enough, when her hair finally grew out…she looks white, but she's a Silver Point Persian." The little hairless cat, nicknamed Sweet Bea, defied expectations and turned out to be beautiful, healthy, and loving.
When D.C.'s Shakespeare Theatre Company began preparations to produce Harold Pinter's play The Collection, they noticed that the script specifically mentions a white cat. As Susan said, "Michael Kahn [the artistic director of the Shakespeare Theatre] was not going to have anything but a live cat." Michael is a revered director and known for putting on incredible shows.
In addition, Susan revealed that Michael is "quite a cat lover, himself" and even has a cat of his own. However, Michael's three-legged cat did not fit the script's description, according to Susan, "so his cat was not going to be able to do the honors on stage." Instead, the Shakespeare Theatre Company held "pawditions," as they called them, to find the perfect white cat for their production. Sweet Bea was the lucky cat who won the role. During rehearsals, according to Susan "Michael Kahn… was terribly sweet to" Sweet Bea. He often "rolled over on his little chair and gave her some attention which she obviously loved."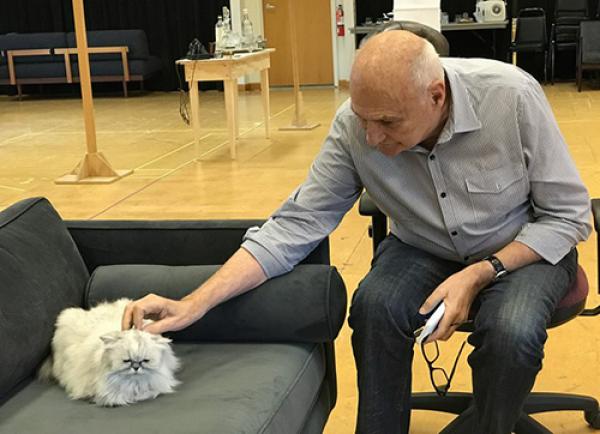 Susan, who is a playwright, actor, and director herself, was thrilled when Sweet Bea won the part. She noted that, "A stage life for a cat isn't always recommended." However, Sweet Bea, "did very well, she sat and she looked out, and she did what she was supposed to do." To help keep Sweet Bea happy, Susan shared that, "When she got off stage she would always get a little treat backstage. She seemed to then do very well with that."
Susan told us that she and Sweet Bea "would go back and forth to the theatre on the Metro," D.C.'s subway system. Soon, people began to recognize Sweet Bea and "she had a following!" Susan said that Sweet Bea enjoyed the attention, adding, "she likes people."
And people like Sweet Bea. Susan revealed that "all the men in the company [of actors]… would come backstage and they would touch Sweet Bea. I always thought it gave them comfort." Susan also said that it wasn't just the actors who had a soft spot for Sweet Bea, "All the tech people…they were so kind to Sweet Bea, every single person." She shared that they "had lots of fun taking little picture of Sweet Bea" around the theatre and with her new friends.
Sweet Bea did well in the show, although, as Susan put it, Sweet Bea "did her own choreography" and it didn't always match with what the actors expected! Susan said that, "One day she decided to take a walk on the back of the sofa and then hopped off, wandered around the stage, and wandered offstage. It sort of worked for the play, but I think the actors were pretty taken aback!"
Susan got to see the production from backstage and said, "it was an amazing production. Susan thought that the show had particular relevance for "this day and age" because it brought "to light this sense of mystery, but also of multiple truths" and that "is what Pinter is all about." She continued, "I think 'cat' was the inner monologue" of the show. Discussing Pinter and cats, Susan suggested that Pinter possibly saw women as similar to cats – both containing an air of mystery.
Susan reviews shows for DCTheatreScene.com. During rehearsals, Susan used her writing skills to blog about Sweet Bea's experiences from Sweet Bea's point of view. Covering her audition and first rehearsal through opening night, the posts are a great behind-the-scenes look into a complicated production. Writing about the rehearsal of a scene where an actress was holding Sweet Bea, the blog says, "I dug my nails in, oh, just a little, to support her truth of being in distress." In another post, Sweet Bea shared, "I believe I can inspire others. Hang in, and believe." We have to agree that Sweet Bea is definitely inspirational.
Now that the show is over Susan told us that Sweet Bea is "very happy to return to her space and her routine." However, the experience has brought out a bit of the diva in Sweet Bea. Susan shared, laughing, that "now she comes downstairs later than the other cats and kind of looks around, 'Okay, do I get special food?'" When asked if she thought that she and Sweet Bea would ever act together, Susan joked "that would be dangerous, two divas on the stage!" Sweet Bea lives with one dog and two other cats, but they all get along as a happy family. All the pets are rescue pets and the family even lives down the street from City Dogs, one of Susan's favorite animal rescue groups.
Sweet Bea proves that it doesn't matter where an animal comes from, they can still accomplish great things. We asked Susan for her advice for anyone who thinks their pet might be a good fit for the stage. "Negotiate for a private dressing room," was her biggest piece of advice. The private space can help an animal feel more secure and calm, especially in the otherwise bustling atmosphere of a theatre. Susan continued, "It would have been a lot easier if the cat had been trained," but that the director had particularly wanted Sweet Bea, an untrained cat. However, despite not having any prior stage experience or particular training, Sweet Bea was perfect for the part.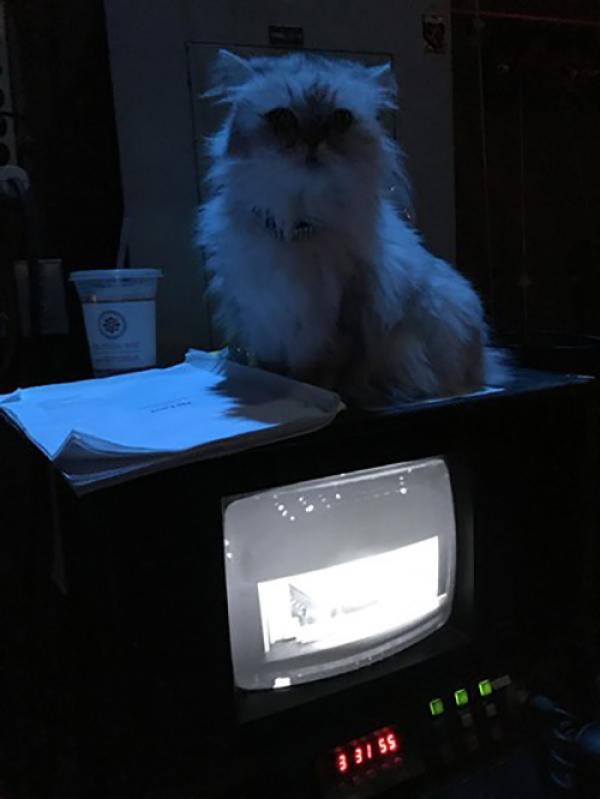 However, although Susan is open to Sweet Bea acting again in the future, that's not why she loves her cat and believes so strongly in adopting animals in need. She said, "first of all rescues are so grateful…I think you don't choose a rescue, I think a rescue chooses you" and that "they fill an empty spot you didn't even know was there."
Susan continued, "They give you so much more, always. I've never had an animal where I wasn't totally surprised [and] delighted… and usually animals will get to know when you need them the most." Despite Sweet Bea's fame, Susan said, "when I'm down or when I'm lonely or when I'm sick, she's there on my pillow." Rescue animals, she believes, are "there to make us more whole." Susan concluded that, to her, rescue animals, "…they're stars, whether they're on stage or not. The world is their stage." We'll give a standing ovation to that.