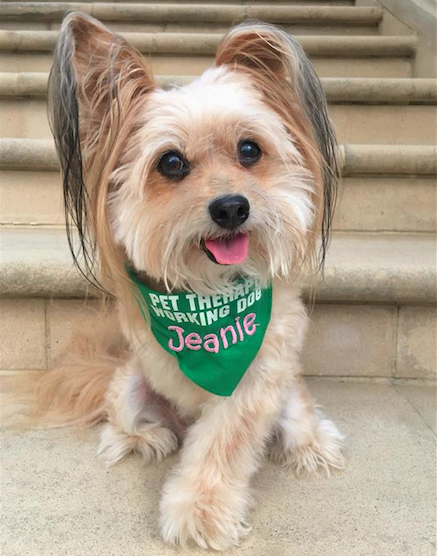 On September 29, 2018 the American Humane is hosting the eighth annual Hero Dog Awards gala at The Beverly Hilton, where they will be honoring the Hero Dog Awards winners in seven different categories and the 2018 American Hero Dog will be named.
The Halo Pet Foundation has previously sponsored the American Humane's veteran program and we're happy to hear that Halo partner, Jeanie the 3-Legged Dog, is competing in the Therapy Dog category where she and her mom volunteer at veterans' homes and bond with fellow amputees. In addition, Jeanie works for a Children's Advocacy Center where she comforts children who are questioned by forensic investigators in physical and sexual abuse cases, violent crimes, and even homicides. She also volunteers at hospitals, schools and nursing homes.
Jeanie was rescued in south Louisiana when she was five months old & was adopted after a deformed front leg was removed by a local vet. Jeanie spent a day with traumatized elementary students who witnessed a shooting in their classroom. She helped an apprehensive child speak to officers after witnessing a murder/suicide. In both cases (and others), she provided a diversion from the horrors of those events.
She attends counseling w/amputees, attends children's grief therapy, comforts students during finals week, & visits schools' special ed classes. A veterans' home resident w/dementia, who had been crying for two weeks, was calm & content, even joyful, during a visit w/Jeanie. A video of the pair went viral on social media.
Local dog lovers and those across the country are invited to visit http://herodogawards.org and vote once per day for their favorite dogs in each of seven categories.
Following the first round of voting, which ends April 25 with the selection of 21 semifinalists (the top three in each category), a second round, featuring a combination of public and celebrity voting, will narrow the field to the seven category finalists. The winning dog in each category will be flown to Los Angeles and celebrated at a red carpet, star-studded awards gala on September 29, when this year's American Hero Dog will be revealed.
Good luck Jeanie and thank you for making a difference in your community!