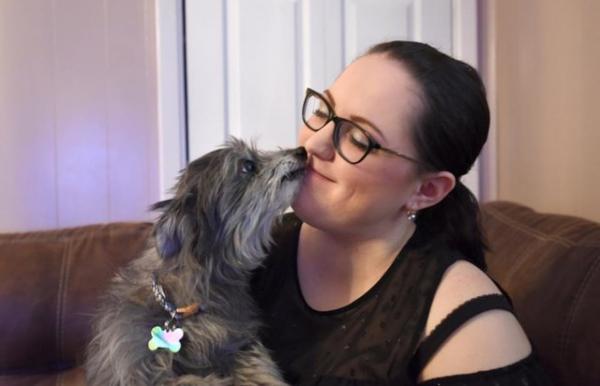 Nicole Renae is married with one child. She and her husband wanted to adopt a dog to make their family complete. Nicole had loved a dog named Chloe when she was a child, but the family had been forced by her father's job to give Chloe up when she was still young. This time, Nicole was going to keep her adopted dog for good.
Halo loves helping shelter animals find their best chance at a forever home. Through #HaloFeedItForward, and our partnership with Freekibble.com, for every purchase made we donate a bowl of dog food or cat food to shelters to help shelter pets have their best chance at finding forever best friends. For one senior dog, she managed to catch the eye of the woman who had been her best friend when they were merely a puppy and a child.
Nicole meant to adopt a puppy, but a Facebook post showing a senior dog who needed a home changed her plans. The dog was gray and looked like an older version of the Chloe she remembered. What sealed the deal? The dog's name was already Chloe! Nicole told The Dodo, "I thought that was such a coincidence," and she decided to adopt the dog and give her a forever home.
When the two met, the coincidences piled up. When Nicole was a child, her Chloe loved to run up to her and lick her face in greeting. The moment that Nicole met this Chloe was magical. "She just ran up to me and started licking my face," she said. That wasn't all. "As the day went on, all these characteristics just reminded me of my old dog," Nicole added. Soon, "I just knew in my heart that it was her," Nicole told reporters. Even though it seemed impossible, this dog she was adopting as an adult was the childhood dog she had been forced to say goodbye to all those years ago.
At first, Nicole's family didn't take her seriously. "My whole family thought I was nuts," as Nicole bluntly put it. However, it was Nicole's mom who came up with a way to prove that Chloe was in fact, the original Chloe. Nicole's childhood dog had been microchipped and their old veterinarian still had the ID number. When Chloe's microchip was scanned, the numbers were a match. It was the same microchip in the same dog.
"I literally felt like I'd won the lottery. It was just the best feeling," Nicole said about learning that her adult adoption was actually her childhood dog.
After leaving Nicole's family eight years ago, Chloe was quickly adopted by an older couple and lived a happy life with them until they passed away. Then she was adopted by another family, but that family had to make the same call as Nicole's parents and surrender Chloe to a shelter. It turned out to be for the best – otherwise Chloe would never have found her way back to Nicole. "Chloe is happy," said Nicole. "I think she knows now that she'll be with me forever." Now that's a true best friendship to celebrate!