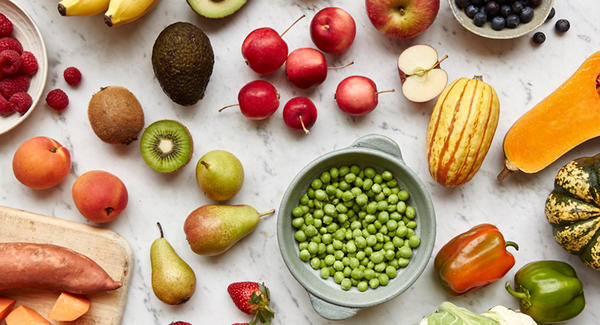 There seem to be a lot of myths about what/when/how people should feed their dogs, with one of the overall Major Myths being that "people food is bad for dogs." This is sheer silliness, as anyone who has been listening to me knows already, and is a good example of how generalized sweeping statements don't advance knowledge or thoughtful decision-making.  Feeding your dog is as individual a decision as feeding your human child, which is where I think the idea came along that dogs and vegetables are not a good combination – because many children don't like spinach, broccoli, beets and other fine examples of bounty from the garden. But dogs are often more open-minded omnivores than young two-leggeds – although many a dog can be as fussy and finicky as some "won't eat anything" toddlers can be.
However, just as vegetables are very good for people's' health, they are also good for dogs, providing fiber, vitamins, minerals and a [usually] low-calorie way to feel full. The Healthy-Weight dry food from Halo that I feed my dogs is rich in non-GMO vegetables [and I do want to educate myself about non-GMO veggies and address that another day].  A couple of my friends who are lifelong vegetarians are deeply grateful for the Garden of Vegan food from Halo –  which is a complete and balanced recipe that proves the nutritional value of vegetables. Here is a partial list of those vegetables:  non-GMO green peas, chickpeas, pea protein, potato, sweet potato, celery, beet, parsley, lettuce, watercress, spinach,and  dried kelp (which I think of as a vegetable from the sea!).
Dogs benefit greatly from having a nice mix of vegetables in their diet, whether cooked in their food or given to them as raw snacks. I know lots of people whose dogs go nuts for raw carrots, string beans, broccoli and even zucchini. Mine are gluttons for handfuls of frozen broccoli (they will eat many cooked vegetables but mostly if they have some nice butte or olive oil on them!).  My sister's little toy Brussels Griffons amaze me for how they hover around her feet when she's cooking and will gobble up any sort of vegetable she drops for them – from Belgian endive to red pepper or romaine leaves. And they go nuts for apples, blueberries or watermelon!
I'd love to know what fruits or vegetables your dogs gobble up – or if you're to start experimenting yourself.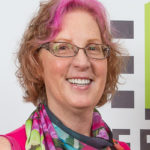 Tracie Hotchner is a nationally acclaimed pet wellness advocate, who wrote THE DOG BIBLE: Everything Your Dog Wants You to Know and THE CAT BIBLE: Everything Your Cat Expects You to Know. She is recognized as the premiere voice for pets and their people on pet talk radio. She continues to produce and host her own Gracie® Award winning NPR show DOG TALK®  (and Kitties, Too!) from Peconic Public Broadcasting in the Hamptons after 9 consecutive years and over 500 shows. She produced and hosted her own live, call-in show CAT CHAT® on the Martha Stewart channel of Sirius/XM for over 7 years until the channel was canceled, when Tracie created her own Radio Pet Lady Network where she produces and co-hosts CAT CHAT® along with 10 other pet talk radio podcasts with top veterinarians and pet experts.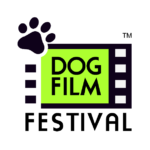 Tracie also is the Founder and Director of the annual NY Dog Film Festival, a philanthropic celebration of the love between dogs and their people. Short canine-themed documentary, animated and narrative films from around the world create a shared audience experience that inspires, educates and entertains. With a New York City premiere every October, the Festival then travels around the country, partnering in each location with an outstanding animal welfare organization that brings adoptable dogs to the theater and receives half the proceeds of the ticket sales. Halo was a Founding Sponsor in 2015 and donated 10,000 meals to the beneficiary shelters in every destination around the country in 2016.
Tracie lives in Bennington, Vermont – where the Radio Pet Lady Network studio is based – and where her 12 acres are well-used by her 2-girl pack of lovely, lively rescued Weimaraners, Maisie and Wanda.