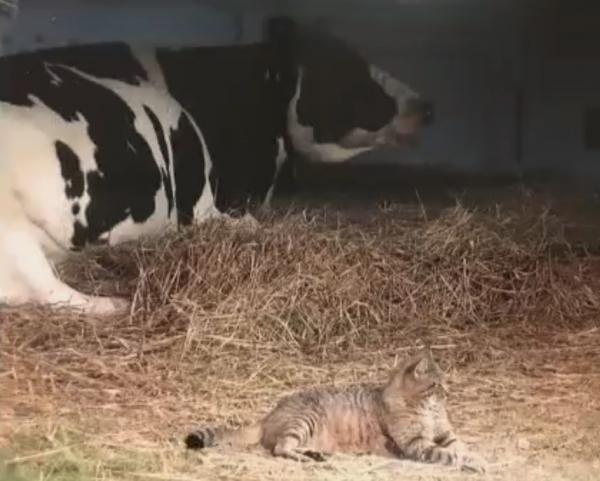 It's not uncommon to hear about cats who are best friends with other cats. In your own life, you might even know a cat and dog who are, against all odds, best buddies. What about an interspecies friendship with a much larger size difference? One cat in Arkansas, who looks like she weighs no more than 10 or 12 pounds, has an unusual best friend who weighs one ton!
According to Arkansas Matters, a cat named Annie in the town of Center Ridge has made friends with a ten-year-old cow named Holly. Shannon Flowers and her husband, Stan, built a special house for Holly after bottle feeding and raising her from a calf by hand. The unusual house looks a bit like a child's bedroom and includes a nursery rhyme illustration that shows a cow and a cat.
Maybe that picture is why Holly didn't mind when Annie wandered by and moved into the cow's home. Shannon told reporters that Annie and Holly soon became best friends. Shannon said that she normally finds the cat spending time with Holly, saying "Sometimes, she's on the bench and sometimes she's on the straw with Holly." Although the two friends are different species and very different sizes, they seem to get along splendidly.
Most cows don't get special rooms with electronic music boxes they can operate themselves. However, the care that Stan and Shannon show Holly is not unusual. As part of our mission, Halo works to change how farm animals are raised because we believe that all animals impact our lives and play a role in improving our collective well-being. It's obvious that both Annie and Holly improve Stan's and Shannon's lives. And, of course, they improve each other's lives like any pair of best friends.