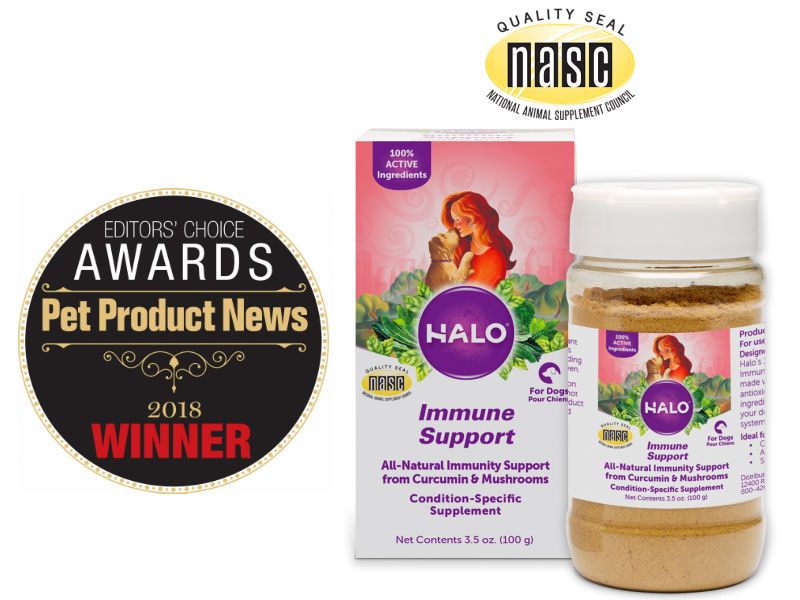 Halo is proud to share that Pet Product News has included our Whole Food Condition-Specific Supplements for dogs in its annual Editors' Choice Awards.
Pet Product News (PPN) knows that new products flood the market every year, making it hard for retailers to know what the best, most noteworthy products are. Aside from being able to honor manufacturers for a job well done, PPN's Editors' Choice Awards is an opportunity for PPN to help retailers narrow the field when it comes to choosing new stock. PPN hopes that providing their picks for the hottest and latest products out there inspires our retailer readers and offers up some ideas for new goods for the new year.
PPN editors reviewed numerous submissions and finalists were announced in October. From there, only 35 products won the top honor and were included in the 2018 Editors' Choice Awards. "After a thorough period of testing, these introductions victoriously made it to the finish line, having proved to be yummy, sturdy, fun, inventive, nutritious, useful, eye catching or novel—and, most likely, some combination thereof."
Halo's Whole Food Condition-Specific Supplements for dogs do not include any binders, fillers or added flavors—just 100 percent whole ingredients. The condition-specific daily "supplemental foods" are formulated to address a specific condition while also supporting the overall health, aging and wellness of a dog. The National Animal Supplement Council (NASC)-certified supplements include Joint & Hip Support, Senior Dog Defense, Sensitive Stomach, Skin & Coat Support and Immune Support.
https://halopets.com/dog/dog-supplements