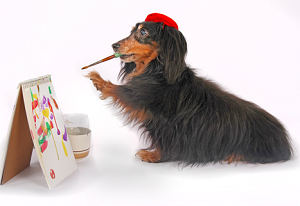 Many talented artists bloom in their senior years and Hallie, a 14-year-old longhaired Dachshund, is no exception – even though she's also blind.
Hallie, who was rescued when she was just 10 months old, loves to paint colorful watercolors and Christmas ornaments with the help of her human, DeeDee Murry, of Centralia, Washington.
This inspired canine artist sells out every art show she participates in and donates all proceeds from her work to the Purple Heart Rescue in Washington.
It was four years ago when DeeDee, an artist herself, wondered if her constant companion Hallie might enjoy painting, too. So, DeeDee got out an easel, a brush and some paint cups and handed Hallie her first paintbrush. Hallie grabbed the brush with her mouth and took to painting right away.

Click here to read the complete story.