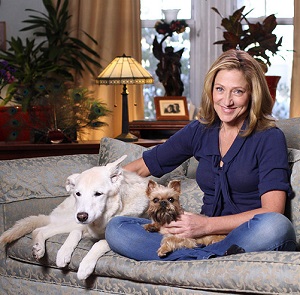 "SHELTER ME: Second Chances" the 3rd episode in the series sponsored by Halo, Purely for Pets premiers on PBS.
"SHELTER ME: Second Chances" is the 3rd episode hosted by Edie Falco in the inspiring series about shelter pets improving people's lives. The 1st episode Shelter Me was hosted by actress Katherine Heigl and the 2nd episode "SHELTER ME: Let's Go Home" was hosted by Jane Lynch; all three hosts are animal advocates.
Shelter Me is about helping others and making a difference. They focus on the success stories to bring more people into the shelters to give these incredible animals a second chance.
Here is this week's airing schedule:
ILLINOIS:
Chicago: WYCC
Sunday, March 16 at 4pm.
NORTH CAROLINA:
UNC-TV/UNCMX
Saturday, March 15 at 6pm.
Episode 2 – Tuesday, March 11 at 8pm.
OHIO:
Athens: WOUB
Tuesday, March 11 at 11pm.
UTAH:
Salt Lake City: UEN-TV
Tuesday, March 11 at 9pm.
Click here for the complete Episode Three Broadcast Schedule – 2014 Schedule