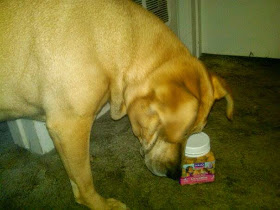 Carolyn M. wrote a review for Halo's Liv-A-Littles Freeze Dried Salmon treats on her blog "Conversation with Carolyn".
Here are some highlights from her reveiw:
"Sandie (my 12 year old Sharpei Mix dog) loves loves loves SALMON. I was given a free treat container of the freeze-dried salmon by Halo! My dog could smell that salmon on the outside of the shipping box, she knew it was for her!
I like the small treat because it is perfect for treating her while we are eating dinner (to keep from giving her food we are eating which is a big NO) and she definitely wants MORE.
I would highly recommend this treat to other dog companions (aka "owners"). I think if Sandie could talk she would recommend it to others too as long as they aren't taking from her supply!
PS… TO THE CAT PEOPLE: This product is for cats too! Meow!"
Thank you Carolyn for sharing your review of Halo's Liv-A-Littles treats. We are happy to hear that Sandy loves her treats! Click here to read the complete blog.