Thanks to food donations with Halo's partnership with Freekibble.com and GreaterGood.org, SWV Snip programs are making a difference in southern West Virginia and surrounding communities.
Here's what Alaqua Cats had to say about a recent Halo donation:
"The Refuge is still dealing with the aftermath of Hurricane Michael and while it is not as dire a situation as it was immediately following the hurricane, the shelter continues to be full of animals, many of which needed medical attention for various issues. There were several animals with severe dental issues, which resulted in poor diets and/or poor nutrition. These animals had to be placed on special diets and some had to be hand fed to ensure that they received proper nourishment. The Halo pet food was gentle on their stomachs while providing the necessary nutrients to nurse the animals back to health. Some of our animals arrived in severely emaciated conditions and had to be fed more to bring them up to a normal weight. 
The Halo pet food was received at the perfect time because the vets finally had ample opportunity to examine and diagnose the animals. When they realized that the issues were intestinal, they were able to experiment with different food to determine what worked best for the animals. We found that the Halo petfood was not only a favorite, but was the best for the digestive system.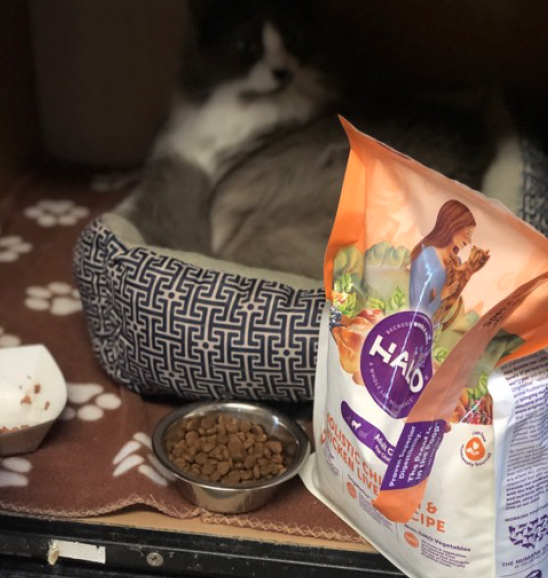 Our medical team and staff were very grateful to have these products on hand for our finicky eaters and our frail stomachs.
Gaye is one of our special cats. She is almost seven years old and suffers with chronic gastrointestinal issues. She was adopted from us several years ago and was recently returned due to her temperament. When she arrived at the Refuge, she was quarantined and our medical staff determined that her disposition was due, in part, to her digestive issues. They placed her on a diet consisting of Halo mixed with a prescription food. Staff reported that she started showing signs of improvement in just a matter of a few days. She was able to digest the Halo food better than any of the other brands and she even let a select few people pet her. She had more energy and even showed signs of playful behavior. The medical staff continues to monitor her diet and hope to have her medically cleared soon so she can be deemed adoptable and find her second chance at a forever home." 
Thank you Alaqua Cats for making a WHOLE lot of difference for pets in your community.
Unlike most pet foods, Halo uses real WHOLE meat, poultry, or fish, and no rendered "meat meal" of ANY kind. WHOLE protein is more digestible than "meat meal," like "chicken meal" or "fish meal," so pets can retain and use more of the nutrients in the food.