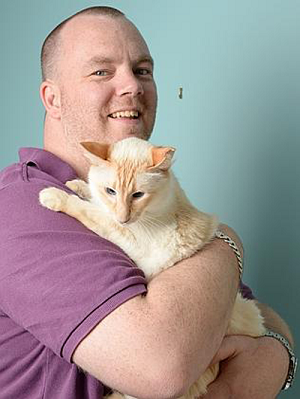 Michael Close of Melbourne Australia was heartbroken when he moved out of the country and had to leave his cat Chopper behind with a new owner. But in a strange series of events, Close reunited with Chopper five years later!
According to the Herald Sun, Close's mom agreed to take Chopper in when Close moved, but when she discovered Chopper was unhappy in her home with her other cat, she found Chopper a new, loving home. And all was well for Chopper for a few years.
But when Chopper's owner died, the cat found himself in a shelter, looking for a home once again.
Not long afterwards, Close, who had recently returned to Melbourne, was browsing the local shelter's web site. His kids wanted a cat. He'd never forgotten Chopper but had lost track of him once his mother had re-homed him.