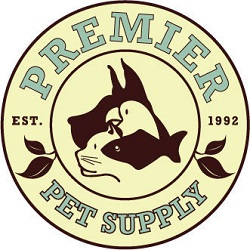 The 2014 Holiday Kibble Drop "Feed It Forward Tour" brought holiday cheer to the Premier Pet Supply in Beverly Hills, MI on Wednesday, December 10. Two Detroit-area organizations, Special Animal Friends and Rescue,Inc.(SAFARI) in Livonia and Almost Home Animal Rescue League in Southfield, received Halo Vigor and Spot's Stew cat and dog food for pets in their care.
SAFARI wrote to say that they "had Christmas come early this year." James White, III, the Secretary/Treasurer of SAFARI said, "Many of our dogs were severely malnourished when they came to SAFARI, and will benefit immensely from a diet of such high quality health food (and our dogs have told us they LOVE the taste)." We were touched to hear that the donation meant that SAFARI would be able to direct more funds toward veterinary care and training.
Gail and Lauren, the cofounders of Almost Home Animal Rescue League, also expressed their gratitude. "Good nutrition plays a big part in healing after all the trauma rescued animals have gone through. Our rescue dogs and cats love the taste, too." They continued, "Thank you from the bottom of our hearts for being such great partners in our continued work…. Happy holidays to you, your loved ones, and the animals who depend on all of us."
Our holidays are certainly happier for hearing about the effects of the fourth annual Holiday Kibble Drop. Halo,Freekibble.com, and GreaterGood.org are enjoying spreading holiday cheer on the 2014 "Feed it Forward Tour." The tour is making 15 stops to deliver 500,000 healthy meals to pets in more than 30 shelters and rescues across North America. Part of the #HaloFeeditForward campaign, the Holiday Kibble Drop is an important aspect of the more than 1.5 million meals a year that you enable us to donate to shelter pets. Because you're the ones who make it possible for us to donate this food, when you share a photo of your pet with #HaloFeeditForward, Halo donates a meal on your behalf to a less fortunate pet.
We hope that the homeless pets of Detroit find homes soon. We know that one dog already found a dream home due to the Beverly Hills stop. Photographer Darlene Czech, whose photographs show the human and canine joy from the event, adopted a dog during the event! Thank you for making it possible for us to help make some holiday dreams come true around the Motor City.