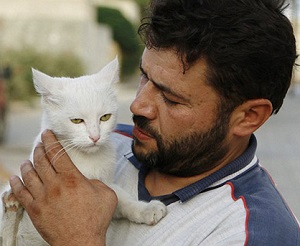 In war torn Syria, there is a ray of hope for some abandoned cats.
According to Reuters, an ambulance driver named Alaa's has been helping some of the victims no one else has noticed: homeless cats.
Alaa has been spending $4 a day from his personal savings to feed 150 stray cats in his nearly abandoned neighborhood of Masaken Hanano in Aleppo.
Many of the cats' owners have fled due to violence and shelling, leaving the cats to fend for themselves.