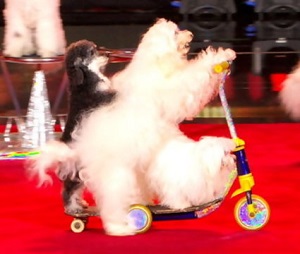 On February 1st, the Dayton Flyers played the Fordham Rams in men's basketball game at 2:00pm.
During halftime, the players were off the court and the Olate Dogs treated southern Ohio to one of their fantastic performances.
We're sure that every fan in the University of Dayton Arena enjoyed the show.
Not in the tri-state area? Check the Olate Dogs' tour schedule to see if they'll be visiting your area soon.
You can also catch the Olate dogs in Halo's #RescueFilms. Halo is proud to know that the Olate dogs get the energy they need by eating only Halo Vigor.