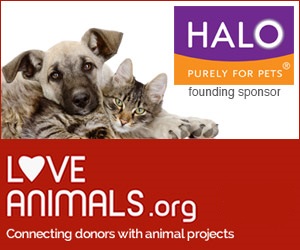 Show your love for animals with this great campaign from our partner, LoveAnimals.org.
Love is in the air, and LoveAnimals.org, a cutting-edge nonprofit crowdfunding website exclusively for animal causes is running a special Valentine's Day campaign in order to grow their power and connect more animal lovers like yourself with critically important animal projects.
As their proud founding sponsor, we want to support their efforts, and we encourage you to do the same by checking out their campaign page: www.loveanimals.org/14days-of-love.html
What is crowdfunding? It's a fun way to raise funds for important causes, by getting lots of people to chip in with just a few dollars. As they say, "Every little bit counts!"
LoveAnimals.org focuses only on animals, so that animal lovers and non-profits can easily find each other. Plus, unlike most crowdfunding websites, LoveAnimals.org doesn't charge any fees and takes no percentage of the money raised by their non-profit partners. That's right: campaign donations go directly to the projects that need them.
The LoveAnimals.org crowdfunding platform empowers everyone to get involved by performing small actions. Everyone can join the animal welfare movement by sharing this story on social media.
For Valentine's Day, LoveAnimals.org is asking animal lovers to share the love so they can help even more animals. You can check out their campaign at 14 Days of Love!
LoveAnimals.org campaigns run the full gamut of animal welfare projects. Pets, wildlife, marine preservation – you can find any project that helps animals posted on the platform. Here are some of our favorites, both big and small:
Roger the cat: Tossed from a moving car, the one-pound kitten was in critical need of surgery. In less than 24 hours, donors doubled Longmont Humane Society's funding goal. Today, Roger is a happily rambunctious – and healthy – cat.
Chimp Haven: The only national chimpanzee sanctuary in the U.S., Chimp Haven, chose LoveAnimals.org to raise funds to care for former research chimps. Donors raised nearly $60,000!
Catalina the cat: Catalina was found on the streets of NYC with burns on the majority of her back and tail. As part of their Critical Care Program, Sean Casey Animal Rescue provided veterinary care including daily wound care, IV antibiotics, and X-rays. And LoveAnimals.org donors funded the over $4000 bill!
HSUS Prairie Dog Coalition: By working to address the dwindling prairie dog population, this wildlife organization improves the health of the entire prairie ecosystem. They raised over $5000 in their end-of-year appeal through LoveAnimals.org.
Learn more at http://www.loveanimals.org/14days-of-love.html.