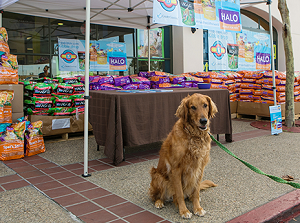 Homeless pets across the nation will have more radiant coats, clearer eyes and renewed energy, thanks to the Freekibble.com community, Halo, Purely for Pets and GreaterGood.org.
The 4th annual Holiday Kibble Drop delivered a total of 565,000 meals to pets in need at more than 30 shelters and rescues in 15 cities throughout December.
At each Kibble Drop location, shelters and rescues received a food donation on behalf of Freekibble.com visitors and Halo customers, who make the Kibble Drop possible simply by playing Freekibble.com or by purchasing Halo pet food.
Halo retail partners in each of the cities along the Kibble Drop route generously agreed to provide a place where area shelters and rescues could pick up their donation.