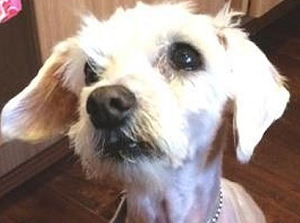 One soldier's heartbreak turned to happiness, thanks to the kindness of an animal rescue and a fellow soldier.
According to the Herald Sun in Melbourne, Australia, a solider, who asked to remain anonymous, recently lost his mother. He was caring for her beloved 12-year-old dog, Prinny, when he was deployed to Iraq. Sadly, he had no one to care for the sweet little dog.
The soldier sadly surrendered the dog to a local shelter, who promised to find the pup a good home. The shelter turned to Kae Norman with Rescued with Love to help.
Norman was happy to assist and soon, one of Rescued with Love's foster families heard about Prinny's plight and agreed to give her a forever home. The adoptive dad is a veteran and dog lover who was honored to care for a fellow soldier's pooch and promised to give her all the love and attention she needed.